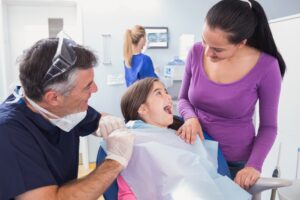 When the right oral hygiene habits are followed, our teeth remain healthy and attractive through the years. Proper care is important from an early age; once a baby's teeth start to arrive, those teeth are vulnerable to dental decay. Fortunately, El Paso area families can rely on the all-ages care offered at Sunny Smiles. As part of our commitment to helping our youngest patients, we can provide guidance to help them not just in the dentist's chair but at home as well. Instructions on how to care for their teeth effectively, along with details on why smile care is important, can help kids both commit to and maintain good hygiene efforts that benefit them into adulthood!
Oral Hygiene Is Important From An Early Age
From the time a baby's teeth first begin to arrive, they will need protection against cavities. Of course, that support initially comes from parents. When you bring your baby in for their initial visit after their first tooth arrives (or by their first birthday), you can discuss effective ways to help their developing smile remain healthy. As they approach an age where they can brush and floss for themselves, the combined guidance from you and their dentist can ensure your child forms and sticks to good habits.
How We Help Kids Learn Good Hygiene Habits
When kids have positive experiences at the dentist's office, they can feel more comfortable returning for future visits, and they can be more receptive to the importance of smile care. During pediatric dental checkups, we take time to provide important care for our younger patients. That can take the form of detailed reviews to chart the growth and development of their smile. It can also involve instructions on protecting their teeth between appointments.
We Also Help Adults Maintain Healthy Smiles
If you want to show your kids how important it is to take care of your teeth, make sure you practice good habits at home, and take care to keep up with your own preventive appointments. Because our practice offers dental checkups and cleanings for people of all ages, you can conveniently set up your own visits when you are bringing your kids. Beyond reducing how many appointments you have to make and how many offices you visit, you can show your children how comfortable you are with treatment. Of course, these visits are also important because they help you reduce your oral health risks and preserve a smile you are glad to show off.
Talk To Sunny Smiles About Caring For Your Child's Smile
Through the right smile care, we help patients of all ages protect themselves against dental troubles. If you would like to find out more or make appointments for your family, contact Sunny Smiles on Dyer St in El Paso, TX by calling 915-859-7000.