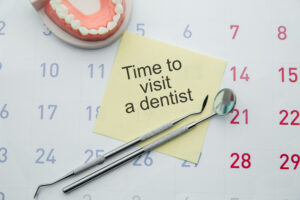 The average week can be a busy one for you, and that can make it difficult to fit in new tasks and responsibilities. Unfortunately, that can lead to some people missing out on important oral health services, as they simply do not feel they have room in their weekday schedule to accommodate a dental checkup. You should know that you can actually have your smile evaluated on Saturdays at Sunny Smiles! Our practice provides weekend office hours so that we can help patients who have a hard time booking timely care. We can also make care more accessible when you have a potentially serious issue, as we can provide emergency dental services on short notice.
Are You Finding It Hard To Book Smile Care On A Weekday?
If your typical weekday is tightly packed with responsibilities, it can be hard to modify your schedule in a way that lets in dental care. Even if you recognize the importance of consistent dental exams and cleanings, you may find it hard to book them if your only options for appointments fall between Mondays and Fridays. The good news is that our office hours remove this issue; with access to weekend services, you can more easily book your appointments and enjoy our services!
Our Office Is Here To Help—Even On Weekends!
The access we provide to our office on Saturdays can make it easier for people with busier or more rigid schedules to arrange appointments. As a result, they are less likely to fall behind on care that they need to successfully prevent problems with cavities and gum disease. Saturday office hours also make it easier for us to see people who have active concerns about oral health problems and require restorative dental work.
The Positive Effects Of Staying Consistent With Dental Care
There are many reasons to be consistent about professional smile care. One is that you can lower your cavity risk. That means both avoiding potential difficulties with new cavities and lowering your risk for letting decay turn into a more serious problem. You are also protected against gum disease thanks to both regular and more advanced cleanings. Of course, these visits also provide opportunities to discuss other matters, such as the persistence of discomfort in your face and jaw, which can suggest you require support through TMJ therapy.
Talk To Sunny Smiles About Saturday Dental Appointments
Saturday office hours help us make time in the dentist's chair more available to patients who tend to struggle with weekday office hours. If you are someone who feels that regular scheduling is limiting, let us know so that we can bring you in for timely services! To find out more about our practice and services, contact our Sunny Smiles location on N Zaragoza Rd in El Paso, TX today at 915-849-9000.