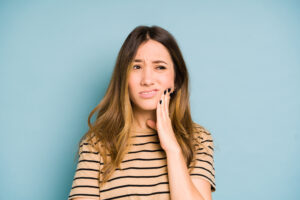 Dental pain can put you in a state of concern about your overall oral health. It can also disrupt your daily life and make biting and chewing more difficult. For people who have issues with discomfort, a prompt appointment with a dental professional can be beneficial for both providing relief and preventing complications from occurring. Sunny Smiles offers help to El Paso area residents concerned about dental pain. We can recommend different services based on the different causes of discomfort. By evaluating you and determining what kind of care you would benefit from, we can proceed to address your issues and prevent further concerns about pain or poor health.
Are You Growing Worried By Dental Pain?
Dental pain is a worrying issue, one that can be difficult for you to ignore. The longer you go with discomfort, the more risk you face from complications. If a single tooth is causing you discomfort, it could be a sign that a still-growing cavity is affecting your health. For those who have more general discomfort in the face and jaw, this problem can be a warning that TMJ issues need to be handled. Once you arrive for treatment, we can assess you and recommend care based on your current needs.
We Can Evaluate You And Find The Source Of Your Discomfort
For patients suspected of having issues with TMJ disorder, we can offer a review of your bite movement and jaw function. From there, we can recommend care that includes the use of a custom oral appliance to keep your jaw in a smart, comfortable position. If you have an aching tooth, we can check it for signs of decay. An advanced cavity can cause discomfort as well as sensitivity, changes in the surrounding tissues, and even a change in the color of your tooth! Through root canal therapy, we can remove the threat and stop further issues from affecting your health and well-being.
Maintaining Your Oral Health And Appearance Through Preventive Services
Preventive dentistry helps you avoid the kinds of issues that can result in painful oral health problems. On a semiannual basis, you should schedule treatments for reviews and cleanings that give you care as well as updates on the state of your teeth, gums, and oral structures. If a problem is caught in time, you can avoid discomfort and preserve more of your healthy tooth!
Talk To Sunny Smiles If You Experience Dental Pain
Problems with dental pain should not be taken lightly. Any time you think that something is wrong with your dental well-being, know that our practice is ready to help! For more information on what we can do for you, contact our Sunny Smiles location on N Zaragoza Rd today at 915-849-9000.