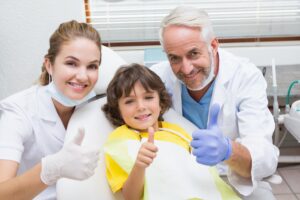 The support you receive when you meet with your dentist can differ from the kind of support that your kids should enjoy. Because children require a different approach to care, parents may assume that they have to turn to a practice that specializes in treating them. What you should know is that Sunny Smiles can provide care to your entire family, as we provide all-ages oral health services! For kids, we provide the kinds of pediatric dental services that help them grow up with healthier teeth and more confidence in their oral hygiene efforts. For adults, we can provide continued care to address potential concerns about cavities, gum disease, and other threats while giving continued preventive care.
Can Your Family's Oral Health Needs Be Met By One Practice?
Having one convenient location for your family's smile care needs can make appointments easier to book, which can certainly be a welcome development. You can book your appointments together at one office, making them easier to book and attend. It can also help you show your kids that they should feel comfortable in the dentist's chair, as they can see you at ease receiving the same kind of treatment!
How Regular Dental Appointments Support Kids
Pediatric dental visits should start at an early age; once your child's teeth begin to arrive, they need protection against cavities. Their initial appointments supply a warm and friendly introduction to oral health care. It can also give us a chance to monitor their early development to look out for warning signs of trouble. When they are old enough, your little ones will start to enjoy care that more closely resembles adult preventive treatments, but these visits still provide extra guidance on oral hygiene as well as reviews to see if developmental issues like malocclusion require our care.
Keeping Up With Your Smile Care Needs On A Consistent Basis
By keeping up with your oral health care on a consistent basis, you can reduce your concerns about gum disease, tooth decay, and general worries about unwelcome smile changes. At these appointments, we provide thorough cleanings as well as evaluations that can lead to the early detection and treatment of problems. In the event that something is wrong, an early intervention can stop you from experiencing complications that demand more involved work.
Talk To Sunny Smiles About Scheduling Dental Care For Your Family!
You and your kids may need different forms of support during dental appointments, but you can still find one practice to reliably meet your needs! We are proud to make family oral health services available to El Paso and surrounding communities. If you are ready to learn more, or if you would like to book your next visits, reach out to Sunny Smiles on Dyer St in El Paso, TX by calling 915-859-7000.