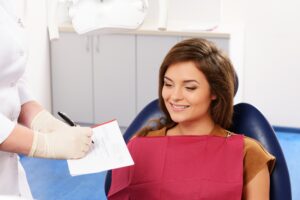 In addition to protecting you against tooth decay, our dental office offers important services for patients who need help dealing with active cavities. You can rely on Sunny Smiles for this support even when your tooth needs more than just a filling. At times when the procedure is called for, we can provide root canal therapy to make trouble within your tooth structure is addressed. After we carefully remove bacteria and unhealthy tissues within your pulp, we can make sure your tooth is properly restored with a durable dental crown. Remember that you are less likely to have problems with an advanced cavity when you regularly schedule and attend routine exams!
What Will It Take To Fully Restore A Tooth Impacted By Decay?
There are different strategies that help with teeth impacted by decay. It is often possible to simply remove decayed tissues and provide a dental filling to keep your tooth safe. However, this is less likely to be appropriate when a cavity has more time to develop and do damage to your enamel. Eventually, you can find yourself in need of treatment for advanced decay that actually affects your pulp, the inner chamber of the tooth. When this occurs, you should make care a priority. If a root canal is not performed in time, the bacteria can continue to spread and make you vulnerable to losing your tooth!
Root Canal Procedures Resolve Problems With Decay Affecting A Tooth's Inner Structure
Through root canal therapy, we can take care of your oral health by accessing and addressing trouble with an infection. The procedure will see your dentist carefully access the inner structure of your tooth in order to address the infection within. After doing this, we can make sure that your tooth is properly treated to prevent new issues with this inner space before placing your restoration.
Using A Crown To Keep Your Tooth Safe After Treatment
Dental crowns provide more protection for teeth that have undergone restorative treatment. There are different materials that are used to make them, including substances that can imitate healthy enamel. Because you have these options available to you, it is easier to feel comfortable with your appearance and bite function after your care has concluded.
Talk To Sunny Smiles About Restoring Your Tooth Through Root Canal Treatment
By performing root canal treatment, your dentist will be able to address problems within your tooth structure, something that can resolve problems with advanced dental decay as well as physical trauma. If you think you have a potential issue with your oral health, or if you need to set up your next routine appointment, contact Sunny Smiles on Dyer St in El Paso, TX by calling 915-859-7000.