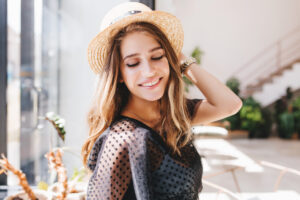 Will you really have results you are excited to show off after cosmetic dental work? The right procedure can have a significant impact on how you look. For people in and around the El Paso area, a number of services are available at our practice. Sunny Smiles provides multiple cosmetic services. Even if you have an interest in changing several aspects of your appearance, you can find that only one procedure is needed to give you the changes that you want. In some cases, it may be necessary to discuss restorative treatment, as you may need work that addresses your health and dental function. Even in this case, we can provide services that give you more confidence in how you look.
Choosing A Treatment To Improve Your Smile
We offer several services that give patients more attractive smiles. By selecting the right one for you, welcome improvements can be yours in as little as one or two appointments! We can talk to you about how you can deal with different issues like discoloration, wear and tear on enamel, naturally occurring flaws, and other flaws that might take away your confidence. What should you do if you need to take on several problems? When we proceed with the right service, we can take on multiple flaws and give you significant results in a surprisingly short time!
How Different Services Help Patients Enjoy Cosmetic Improvements
There are different services that are available to our patients. If you want to do something about the way you look, we can discuss services like:
Can Oral Health Services Also Improve Your Appearance?
There are times when patients who have oral health issues hope to make meaningful improvements to the way they look. Your restorative dental work can take care of any problems with your well-being while still prioritizing preserving your appearance. A careful review can determine if a problem with a tooth's condition and appearance might call for this approach instead of cosmetic treatment.
Talk To Sunny Smiles About Cosmetic Dentistry!
Through cosmetic dentistry, there are several ways in which we can make noteworthy changes to the way you look when you smile and speak. If you are ready to find out more, reach out to our Sunny Smiles location on N Zaragoza Rd today at 915-849-9000.