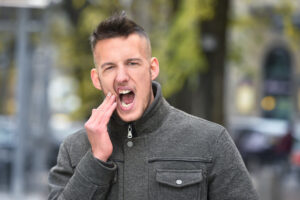 The pain you feel may require prompt treatment. When cavities and physical injuries cause discomfort, it can warn you about an internal infection or damage that will put you at risk for losing your tooth! What can you do to make sure that you have the right restorative dental procedure performed in time to avoid further complications? At Sunny Smiles, we provide emergency dental work for people in and around the El Paso, TX area. Because you can promptly see us to discuss your tooth pain, you can have its cause identified and addressed before the problem grows worse!
Dental Discomfort Can Be A Serious Concern
It can be a mistake to ignore the feeling of pain in your tooth when it persists for an extended length of time, as well as whenever it feels significant. The discomfort you feel can actually be a symptom of an infection, one that will continue to worsen and potentially cause you to lose your tooth! You can be relieved to know that we can provide relief in a timely manner so that no complications affect you. Because you are able to schedule urgent care, you can enjoy prompt relief from your discomfort.
How Emergency Dentistry Provides Timely Support Against Oral Health Threats
During a dental emergency, we can welcome patients, evaluate them to determine what kind of care needs to be provided, and move forward with restorative dental work. These services can include root canal treatment, a service that removes bacteria and infected tissues in your pulp. In circumstances where patients come in for urgent care because of physical trauma, the matter may not be serious enough to require this support. In fact, you may be able to address physical damage with something as conservative as cosmetic dental work.
Restoring Teeth And Preserving Smiles
In addition to restoring your oral health, your dentist can provide care that will preserve your appearance. For those who have physical damage but do not need restorative work, a conservative cosmetic treatment can effectively respond to smile concerns. If you need more involved services for dental pain and other problems, we can provide restorative services that include the placement of dental crowns that match the look of enamel and fit in with your smile.
Sunny Smiles Is Ready To Help When You Need Treatment For Tooth Pain
Tooth pain can be more than just something that interferes with your daily life. In the event that you have a serious cavity or injury that causes internal problems, you will need care to stop your discomfort as well as your risk for losing the tooth. Our practice is here to help when patients require urgent treatment. If you would like to find out more, contact Sunny Smiles on Dyer St in El Paso, TX by calling 915-859-7000.