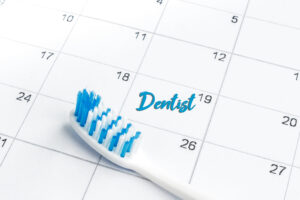 The weekends can be a more convenient time for many activities. What might surprise you is that at the right dental office, you can even use your weekend to arrange oral health services! Sunny Smiles provides extended office hours that make appointments available on Saturdays. Because of this, we can see people who have a tough time scheduling appointments Mondays through Fridays. It is important to note that these appointments have significant value for you over time. They give you regular updates about dental decay and gum disease, and they provide preventive care that will help you stay safe from new problems. To make our care even easier to access, we do provide emergency services for patients at times when treatment is needed on short notice.
Do You Have Trouble Making Time For Care During The Week?
Simply put, as long as you have a hard time adding any new appointments to your week, you will have a hard time making room for dental care. Unfortunately, being busy does not make you naturally resistant to oral health problems! Going an extended period of time without routine services can make you more likely to experience issues with tartar buildup, the formation of cavities, and more. Let us know when your weekdays are not open to appointments, as we can make plans to see you on a Saturday.
Planning Your Weekend Dental Work
During your dental visit, we can provide the important preventive services that help patients maintain healthy teeth. These appointments provide updates from your dentist, as you will have your smile thoroughly checked for problems that might require restorative dental work. You will also enjoy support in the form of a teeth cleaning to remove tartar buildup and plaque. Through this care, you will be protected against the accumulation of bacteria that can leave you vulnerable to new issues.
Need Care On Short Notice? Set Up An Emergency Appointment!
Weekend dental services can make important oral health care more accessible. To further support our patients, we can offer emergency dental services so that urgent problems can be addressed on short notice. This means you will not have to endure a frustrating wait if you are worried about dental pain, or if you experience a physical injury that requires prompt attention.
You Can Set Up A Weekend Dental Visit At Sunny Smiles!
If your weekdays tend to be busy or rigid to the point where you have a tough time making room in your schedule more, it can be difficult to schedule dental work. Fortunately, our El Paso, TX practice can see you on the weekend! For more information on our office hours and the services we provide, reach out to our Sunny Smiles location on N Zaragoza Rd today at 915-849-9000.