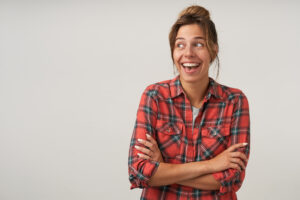 You can see teeth whitening treatment as something relatively straightforward, as you can find several products that offer to remove enamel stains at your nearby grocery store or pharmacy. However, you can find that your ideal results are more difficult to see than you initially anticipated when you rely on these products, as they can offer limited improvements. What can you do if you want to see more significant changes to the way you look? At Sunny Smiles, patients who are interested in making real smile changes can talk with us about our cosmetic dental services. The support we provide includes teeth whitening treatment, as we can prepare a personalized kit for you to use in order to make more significant changes to the way you look!
Are You Tired Of Feeling Self-Conscious About Dull, Discolored Teeth?
Teeth stains can build up gradually, and you may not realize you need to do something about them until they become significant. By the time you realize a treatment is called for, it can be difficult to see results by using a store bought whitener. This is because these products can have a difficult time removing stains that are deeper than those recently acquired. To make more significant improvements, you should talk to your dentist about a professional teeth whitening treatment.
Taking Home Your Professional Teeth Whitening Kit
To help our patients see more meaningful changes to their appearance, we can provide teeth whitening kits that are capable of making more significant changes to enamel color. These kits include potent bleaching agents than you can find on your own, and they also provide personalized trays that are used for applying them. Over the course of daily applications, you can make your smile whiter by addressing the particles on your teeth that you have picked up from so many foods and beverages over the years. At the end of these applications, you can feel delighted at how your smile has changed!
What Else Can Your Dentist Do For Your Smile?
There are more cosmetic flaws to worry about than just discoloration. For many individuals, the right procedure is one that focuses on changing the shapes, sizes, or positions of teeth that feel out of place in their smiles. With options like porcelain veneers and dental bonding and contouring work, we can see to it that your smile is effectively improved, and that you have results you are truly excited to show off!
Talk To Sunny Smiles About Making Your Teeth Whiter!
You can make your smile noticeably whiter when you talk to your dentist at Sunny Smiles about using a professional treatment kit. We are happy to discuss this and other matters related to cosmetic dentistry with you. For more information, contact Sunny Smiles on Dyer St in El Paso, TX by calling 915-859-7000.