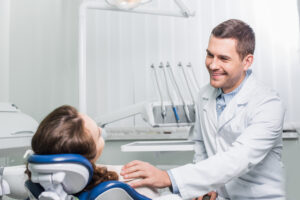 General dental visits protect your smile, keeping you safe from threats that can hurt your appearance, negatively affect your bite movement, and cause trouble for your overall well-being. Sunny Smiles provides general dental care for families in the El Paso area, providing both regular care for adults and pediatric dental appointments. To stay on top of your oral health, you should plan to seek care on a semiannual basis. Doing so lowers your risk for oral health complications, and it can make you less likely to experience the start of problems with tooth decay or gum disease.
Your Dental Checkups And Cleanings Help You Avoid Different Smile Threats
Arranged at regular intervals, dental checkups and cleanings provide an important form of ongoing support so that your teeth and gums remain healthy. By being consistent about your appointments, you can avoid difficulties with cavities as well as gum disease, two common threats that you should not ignore or take lightly. There are additional benefits, as your dentist will look out for any signs of trouble with your well-being that need to be resolved. For example, we can look at evidence of teeth grinding or uneven jaw movement and discuss corrective treatment to prevent complications.
What We Can Do For Patients Affected By Gingivitis
It is important to have protection for your gums as well as your teeth. You may not be aware of just how harmful problems with your periodontal health can be; when an infection is not managed, it can lead to problems with your physical health and destroy the tissues that keep teeth securely in place, which leads to their losses. Regular dental cleanings lower your risk for gingivitis, but when the infection is detected at your checkup, we can provide a deeper periodontal cleaning to fight the bacteria that are already forming on your roots.
General Dentistry And Cavity Treatment
General dental visits provide protection against future cavities, and they lead to the early detection and treatment of problems that are present during your review. If your cavity is caught in its early period, we can remove the infected tissues and provide a dental filling for protection. The filling only covers the treated area while leaving the surrounding structure alone. It is able to match the look of your surrounding enamel and even adhere to it to offer lasting stability.
Talk To Sunny Smiles About Scheduling General Dental Care
Through general dental care, Sunny Smiles can help your family avoid problems with your oral health that could negatively impact your appearance and oral health. If you would like to find out more, or if you are ready to schedule an appointment, contact our Sunny Smiles location on Dyer St in El Paso, TX by calling 915-859-7000.