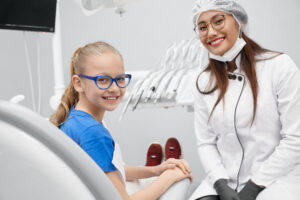 If you want to keep your family's smiles in great shape, finding the right dental practice for each person in your household will be important. What you can be excited to discover is that the right practice can actually provide beneficial services for all of you by making treatments available for people of all ages. Sunny Smiles provides family dental care, which means we can meet with children as well as adults. Because you can bring everyone to one location, you can find that services are easier to arrange. You can also be happy to have support from someone who can both continue to take care of your kids and update you on their health and growth while you receive care.
Our Dental Office Can Reliably Support Your Family
Our practice provides both pediatric dental services and support for adult patients. Finding a location ready to do this can be important. While there are broad concerns about cavities and gum disease that affect a person throughout their life, there are different approaches that should be provided for children as well as those who are already grown. This is partly to make sure that younger patients receive the kind of guidance that will help them keep up with good oral hygiene as adults, but it also concerns monitoring their growth and development. Adults can experience changes in their natural cavity resistance over time, as well as changes in their vulnerability to other issues, such as TMJ disorder and teeth grinding.
Scheduling Your Kids' Appointments
Your child's earliest appointments should occur when their primary teeth (baby teeth) begin to arrive. During these visits, we provide encouragement as well as gentle care to both evaluate them and make them feel at ease. When they are old enough to receive more traditional preventive services, we can provide preventive care that will help a growing smile remain problem-free, and we can offer guidance to help them practice better habits at home.
Addressing Your Own Smile Care Needs
Your own oral health care needs should not be set aside while you make sure your kids have the right support! Because we meet with people of all ages, we can make it easier for you to come in and enjoy the right preventive services. In addition to keeping you informed about your oral health and providing thorough teeth cleanings, we can warn you about the early signs of problems that will need to be addressed. We can also offer input if you have questions about cosmetic care.
Rely On Sunny Smiles To Support Your Family's Oral Health Care Needs!
Because our practice supports patients of all ages, we can make sure everyone in your family is receiving the right oral health support! If you would like to find out more, contact our Sunny Smiles location on Dyer St in El Paso, TX by calling 915-859-7000.