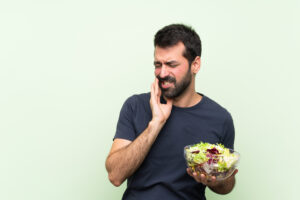 The onset of persistent bite pain and jaw stiffness can be concerning, but is it something you need to talk about with your dentist? Problems with joint pain and stiffness, limited bite movement, and similar issues all point to trouble with TMJ disorder. If you do have this problem, you should know that proper treatment can improve your quality of life and dental function. At Sunny Smiles, we provide TMJ therapy to ease discomfort, improve your joint alignment, and put an end to headaches, teeth grinding, and other problems associated with poor joint alignment and movement. We can also look out for problems with your dental health that may have forced you to make a change to your bite function.
Do You Frequently Have Issues With Jaw Pain?
When problems continue to affect your jaw health and movement, it can point to an issue with TMJ disorder you need help addressing. These issues arise when your joints are no longer in alignment, a problem that people experience for different reasons. In addition to confirming that this is the cause of your issues with bite pain and stiffness, we can talk to you about treatment that delivers functional improvements and improves your quality of life.
Beginning Treatment For TMJ Disorder
With a review of your jaw and dental function, we can determine if your discomfort is a sign that you require treatment for TMJ problems. One way we can help is by providing appliance therapy, which helps your lower jaw remain in a more comfortable and relaxed position. We can also look into whether you need to address problems with your oral health to stick with a bite movement that evenly applies and releases pressure. If so, we can review your options for restorative dental work.
How Poor Oral Health Interferes With Your Bite Function
Problems with damaged, unhealthy, or missing teeth can certainly force you to make changes to your bite function. If any of these problems are linked to your discomfort, we can start restorative treatment plans. Because our restorations can provide durability as well as lifelike appearances, this kind of care can benefit your smile as well as your well-being.
Talk To Sunny Smiles About Beginning TMJ Therapy
Through treatment for TMJ therapy, we can help you improve your quality of life by positively changing your bite function and resting jaw position. Based on your needs, we can discuss different treatment options that will help you see lasting improvements to your quality of life and appearance. This is one of many services that we can provide in order to help your smile and health. If you would like to find out more, reach out to your El Paso, TX, dentists by calling our practice at 915-849-9000.