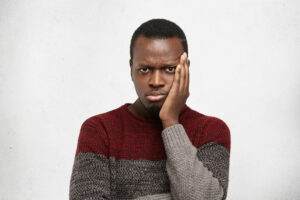 In the event that you have a toothache, it can be important to seek treatment as soon as possible. The sooner you can have the problem evaluated, the sooner you can put a stop to your discomfort. Prompt care also lowers your risk for complications that make you vulnerable to tooth loss and other worrying problems. Sunny Smiles makes important services available to people in and around El Paso. In fact, we can even bring you in on short notice for emergency work. When restorative services are needed, we can take care to preserve your dental health and also take care of your appearance by offering lifelike restorations.
Are You Concerned About A Toothache?
It can be hard to ignore a toothache, but you may be tempted to do so in the hopes that it will quickly pass. Problems with a sinus infection can cause a short-term issue with discomfort, but when the problem persists over time, or when you feel significant pain, you should look into treatment for the matter. An appointment with your dentist can lead to helpful feedback regarding the state of your tooth. From there, we can determine what restorative dental work is necessary to put an end to your pain and improve your overall oral health.
Scheduling Treatment To Address Dental Discomfort
It can be necessary to take on tooth pain with a root canal procedure. This treatment approach deals with internal issues, which means an infection or injury in your pulp (the tooth's central chamber) is addressed to restore your oral health. After the procedure is completed, we can proceed to protect the tooth by providing a custom dental crown. Crowns that imitate healthy enamel are available, so your procedure can take place without causing an unwelcome change in your smile.
We Can Help You Stay Informed About Your Smile
Regular dental exams and cleanings make it easier for you to preserve your smile health and avoid potential problems with pain and sensitivity. At a checkup, we can identify a cavity in an early stage, which means we can provide treatment before you have advanced decay that causes discomfort. We also take care to remove plaque and tartar so that you are less likely to have cavity troubles in the future.
Reach Out To Sunny Smiles To Arrange A Review For Your Toothache
An appointment to address tooth pain can lead to necessary treatment to preserve your oral health and put an end to discomfort. Our practice is ready to help you when you feel discomfort—in fact, we can even provide care on short notice thanks to our emergency services. If you would like to find out more, please reach out to our Sunny Smiles location on Dyer St in El Paso, TX by calling 915-859-7000.