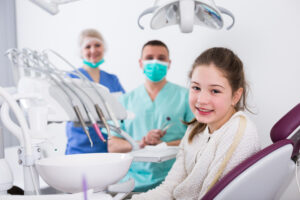 By arranging appointments with a family dental office in the El Paso area, you can make finding time for oral health care easier for everyone in your household. Sunny Smiles provides services for adults as well as pediatric dental care. By welcoming families, we can make scheduling easier on you, and we can make sure you and your loved ones have all the support you need at one familiar office. At any age, dental health matters. For kids, regular dental exams and cleanings provide important feedback about their health, guidance for at-home support, and updates about the development of their oral structures. Adults receive important services that help them avoid dental trouble and preserve their healthy, confident smiles.
Are You Looking For A Single Dental Office That Can Help Everyone In Your Family?
Instead of moving from one location to another to make sure that everyone in your household has the right experience with oral health care, you can secure services at an all-ages practice. Our dental offices make it easier for patients of all ages to see us by making sure kids and adults receive the kind of support they really need. That means we can help your kids learn the value of oral hygiene while we monitor the growth of their oral structures and help them look out for dental trouble. It also means you can come to us with concerns about your oral health and appearance, and that we are here to assist you in preserving your smile through the years.
Scheduling Dental Appointments And Procedures For Your Kids
Starting with their initial appointments, we make sure that kids feel comfortable with both our office and our oral health services. These early experiences can have a significant influence on their comfort with smile care and future dental visits. When they reach an appropriate age, we can start providing the kind of preventive care that helps patients of all ages avoid oral health trouble. In addition to this, we can keep supporting them in learning why they need to protect their teeth, and in what they should do to maintain healthy smiles between visits.
Keeping Up With Your Own Smile Care
Your kids have much to learn about oral hygiene and their dental health, making their appointments important for their long-term well-being. While you can have a better understanding of smile care, you should still make sure you enjoy regular support at the dentist's office! Routine dental exams and cleanings help adults remain cavity-free, and they help with the prevention of potential problems that could impact your health and appearance.
Talk To Sunny Smiles To Schedule Family Dental Services
Sunny Smiles is proud to welcome patients of all ages to our office, where we can make sure both kids and adults enjoy beneficial smile care. If you have questions or wish to book an appointment, you can contact your El Paso, TX, dentists by calling our practice at 915-849-9000.