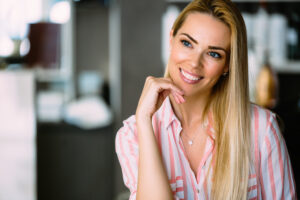 Did you enter the new year with smile improvement goals? It is not too late to take on the flaws that make you self-conscious—in fact, you can see many welcome changes in as little as one procedure! For people in and around the El Paso area, Sunny Smiles can provide cosmetic dental work that leads to exciting improvements. You can take on problems with teeth that are misshapen or damaged, hide spacing flaws, and deal with embarrassing discoloration. For many people, as little as one procedure is all it can take to fully take on all of your concerns!
Are You Ready To Address The Flaws That Hurt Your Smile?
If you want to do something about the way you look when you smile and speak, a review of cosmetic dental services can certainly be beneficial. As you explore your options for treatment, you can find that you are closer to your ideal look than you realized. With treatments that include bonding and contouring work and care with porcelain veneers, we can help you hide multiple flaws in a short time. We also offer targeted improvements when you have concerns about dental discoloration, something that affects many people.
Taking On Problems With Dental Discoloration
Dental discoloration is often, but not always, the result of enamel stains that have accumulated over time. To deal with this, we can provide a customized teeth whitening kit that you can use in the comfort of your home. Your kit will be specially prepared for your use, and it will help you move past concerns about dull and discolored enamel linked to extrinsic stains.
For those patients who have issues within their tooth structure that affect the color of their smile, our practice can recommend other cosmetic services. Both veneers and dental bonding treatment can hide these blemishes. In some cases, we may recommend that you have dental crowns cap teeth that are affected by serious discoloration.
Cosmetic Work To Address Damages And Naturally Occurring Flaws
If your teeth look misshapen or out of place due to their shape or size, or because they are damaged, our practice can help. With veneers, we can effectively change the shape, size, and color of your teeth so that they no longer make you uncomfortable. These durable restorations are placed on the front surfaces of your teeth, but leave the surrounding enamel alone. Bonding and contouring work can reshape and resize teeth as well; with this approach, we do not have to provide restorations, and can complete your care in as little as one visit.
Talk To Sunny Smiles About Starting Cosmetic Dental Work!
Through the right cosmetic dental work, we can help you take on problems with your appearance that have made you self-conscious. If you would like to learn more, please reach out to Sunny Smiles in El Paso, TX by calling 915-859-7000.