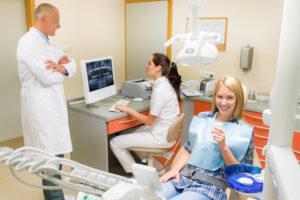 Sometimes, the only way to save a tooth from a cavity involves treatment within the structure itself. As bacteria do increasing harm to your enamel, they can make their way into your pulp, the central portion of your tooth that houses living tissues.  When harmful microbes attack these tissues, it can cause you discomfort and make you more sensitive to hot and cold temperatures. If you do not undergo root canal treatment to address the matter, the problem can worsen to the point where your tooth actually has to be extracted in order to restore your oral health! Sunny Smiles is prepared to help when you find yourself dealing with this kind of problem. The sooner you say something about discomfort, the sooner you can arrange the appropriate treatment to stop an advanced cavity.
What Oral Health Problems Can Root Canals Address?
A cavity will keep growing until you take care of it by seeing your dentist for restorative dental work. Eventually, the decay will expose you to a painful infection that needs to be treated via root canal therapy. While cavities are often the reason root canals are arranged, you should know that this service can also be needed in response to a physical injury that harms your tooth or leaves you at risk for infection.
Arranging Root Canal Treatment For A Serious Dental Problem
If you have concerns about the condition of your smile, bring them to your dentist's attention as soon as you can. When you do so, you can find out if a root canal will be needed to stop trouble and restore your oral health. Your procedure will remove bacteria and infected tissues before your pulp is sealed. After this work is done, you can have a custom dental crown put in place to provide long-term protection and support for your bite function.
How Regular Oral Health Reviews Protect You From Serious Dental Problems
Through regular dental visits, you can stay informed about the health of your smile, and you can learn when problems develop before there are complications. A cavity can be treated before there is an infection present. In fact, when the problem is caught in time, you can receive a custom dental filling to take care of the tooth structure and prevent further issues. A filling only covers the area where your enamel was harmed, so you can preserve the surrounding structure.
Sunny Smiles Is Ready To Provide Root Canal Treatment
By performing root canal treatment, we can save an unhealthy tooth, put a stop to ongoing discomfort, and make sure that your smile and dental health are preserved. If you would like to find out more, reach out to your El Paso, TX, dentists by calling our practice at 915-849-9000.