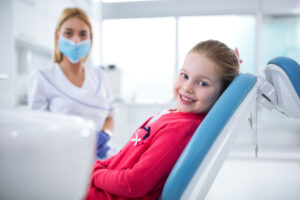 When your child has access to the right pediatric dental care, they can gain more than just the kind of preventive services that adult patients receive. At Sunny Smiles, we work with families in and around El Paso to provide a quality treatment experience, one that helps kids feel at ease in the dentist's chair. In addition to this, we can provide guidance to them as they age so that they can continue to maintain good oral hygiene habits on their own. We can make sure your kids are receiving the right attention at our practice, and we can also provide you with ongoing preventive care to help you preserve your own smile health!
Are Your Kids Receiving The Right Kind Of Oral Health Support?
Pediatric dental work provides kids with important care in the office, but it also provides guidance so that they learn how to properly care for their teeth into adulthood. Kids who receive this kind of guidance can have an easier time brushing and flossing once they are old enough, and they can have a better understanding of why these practices are so beneficial. These visits also ensure that kids are supported and receive the right care if they have issues with the development of their oral structures.
Our Practice Provides Important Dental Services For Kids And Adults
Sunny Smiles provides family dental care to the El Paso community, which means we can make sure that everyone in your household enjoys support. Because you can set up checkups for everyone at one time, you can have an easier time bringing everyone in for a routine dental exam and cleaning. You can also help your children feel at ease at the dentist's office, as they can watch you go in for your own appointments.
Carefully And Discreetly Restoring Cavities
Unfortunately, cavities can affect people at any age. Kids are vulnerable to decay when they do not have the right support in place. Even children who do have access to reliable oral hygiene support can experience at least one cavity as they are growing up. Our practice can take care to restore their teeth to stop the threat of complications, and we can provide treatment to fully support their tooth and smile.
Sunny Smiles Is Ready To Offer Reliable Smile Care For El Paso Area Children
When you find a dental practice that can reliably support patients of all ages, you can have an easier time setting up care for everyone in your household. Sunny Smiles takes care to provide a welcoming atmosphere for our youngest patients, and we can take care to help them grow up with healthy, confident smiles. If you would like to find out more about how we can help you make sure your kids' smiles are cared for, contact your El Paso, TX, dentists by calling our practice at 915-849-9000.