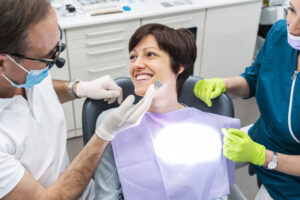 Your goal should be to stay completely free of cavities at all times. Remember that even a small cavity is a problem, as its formation does permanent harm to your enamel. Responding to this issue calls for treatment that includes the placement of a permanent restoration, which will have to stay in place to protect the tooth's structure and keep it safe from an infection. The good news is that in addition to helping patients stay safe against the onset of dental decay, Sunny Smiles provides restorative dental work that can preserve your appearance as well as your oral health. When you need a dental filling because of a cavity identified at a checkup, we can provide one that matches your tooth structure and provides dependable protection for it.
Why A Filling Is Needed As Part Of Your Cavity Treatment
If you have a problem with tooth decay, you will need to undergo treatment that both removes bacteria and infected tissues and also addresses that loss of enamel. We are not able to naturally grow back this structure, making the placement of a restoration necessary. The good news is that a dental filling is a discreet answer to this problem. It will only occupy the space where the cavity formed, and it can blend in well enough to avoid creating problems with the way you look.
Discussing Your Procedure To Restore Your Oral Health
Your cavity treatment can be completed in just one appointment. Before your filling is placed, the tooth needs to be treated for the decay itself. After carefully removing damaged tissues and clearing away bacteria, we can apply the resin substance used to treat teeth. This material does more than just match the appearance of our enamel. It will also bond to it, creating an impressive level of stability and support.
What If You Need More Than A Filling To Protect Your Tooth?
Cavities that grow too large will need more than just dental fillings to treat them. In these situations, we will instead use dental crowns for support. Crowns provide complete coverage above your gum line. These restorations are carefully crafted to fit over teeth securely, providing enough coverage to maintain the tooth's natural appearance without affecting its neighbors. We do offer these restorations made to match your teeth, so they can offer cosmetic as well as oral health benefits.
Arrange Your Cavity Treatment At Sunny Smiles!
Through treatment at Sunny Smiles, patients who have problems with their oral health can count on support that will preserve their appearance and oral health. We can provide conservative dental fillings and dental crowns that take care of your oral health while they also preserve your smile. In addition to this, we can help you keep up with your oral health and avoid future issues with decay! If you would like to know more, contact your El Paso, TX, dentists by calling our practice at 915-849-9000.