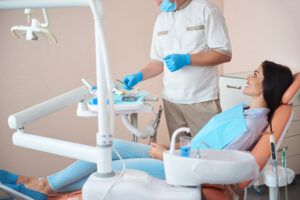 While we want our patients to avoid the kinds of problems that make them necessary, Sunny Smiles is ready to help when people in and around El Paso require root canals. This service does more than just take on dental decay. By providing this kind of care, we can stop worsening problems from an infection that has developed and started to cause you discomfort. The procedure will see bacteria and unhealthy tissues carefully removed from your pulp, your tooth's central chamber, before the tooth is protected with a custom crown. Remember that regular updates from your dentist during dental exams can help you avoid root canal therapy. After all, we can spot a cavity when the placement of a filling is still all that you need to maintain your oral health!
When Should A Dental Problem Be Treated With A Root Canal?
There are many situations where restorative dental work can proceed without a root canal. After all, it takes time for a cavity to grow serious enough to require this service. With that said, once decay has done enough damage to let an infection within the tooth develop, this service will be necessary. This kind of care is known as endodontic treatment, as it tends to an issue within the tooth structure.
Arranging Your Restorative Treatment
Once we determine that your treatment will require it, we can begin plans to restore your tooth via root canal therapy. This procedure will see your dentist carefully access the central space of your tooth, your pulp, so that we can remove bacteria and unhealthy tissues. After this work concludes, we can seal the pulp and make plans to put a custom dental crown in place to provide lasting protection. Different types of crowns are provided, including restorations that actually imitate your healthy enamel.
How Can I Make Myself Less Likely To Need Endodontic Treatment?
The more often you see your dentist for routine care, the less likely you are to require a root canal. This is because we have more opportunities to evaluate you and look out for the early signs of dental decay. Once identified, we can treat them more conservatively, which means you can have a more comfortable treatment and preserve more of your healthy enamel.
Talk To Sunny Smiles To Set Up A Root Canal In The El Paso Area
Through root canal therapy, we can put a stop to a problem with your smile caused by a dental infection. In addition to providing these treatments to people in the El Paso community, we offer beneficial preventive services that will help you avoid these kinds of issues in the future. If you would like to find out more, please reach out to Sunny Smiles in El Paso, TX by calling 915-859-7000.