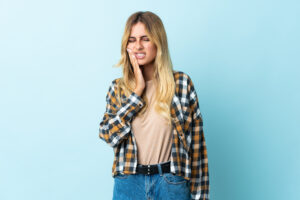 If you start to feel as though aches and pains are a part of your daily life, particularly discomforts that affect your face and jaw, let your dentist know. People who experience issues with TMJ disorder can struggle with jaw pain, stiff and uncomfortable jaw movement, and other issues, like headaches, on a regular basis. To deal with this issue, Sunny Smiles can work with you on effectively resolving problems with your jaw alignment and function. By doing so, we can help you ease tension, reduce pain, and enjoy better bite movement, which can improve your quality of life. We can also assist you by providing an oral appliance to keep your smile safe against nightly teeth grinding, a condition that is often linked to TMJ disorder.
Are You Experiencing Any Of These Issues?
If you have more headaches than you used to, struggle with limited or painful bite movements, feel frequent facial soreness, or worry that your tendency to grind your teeth will cause problems, we can help. These issues can point to problems with TMJ disorder. After an evaluation, we can see what treatment approach will help you reduce tension on your joints and muscles in order to improve your quality of life. We can also look for any oral health issues that might need to be addressed in order to improve your bite funciton.
Looking Into TMJ Therapy With Your Dentist
Through TMJ therapy, we can make corrections to your bite function, help you change the position of your jaw, and even protect yourself against teeth grinding that takes place at night. By doing so, we can ease the tension on your jaw joints and muscles and help you resolve problems with persistent pain. Remember that your regular checkups provide welcome updates about problems like this, and can lead to treatment before the matter becomes serious.
When Dental Problems Negatively Affect Your Bite Function
The right approach to your care may call for restorative dental work, as teeth in poor health may provide poor bite support. If this is the case, a procedure to cap vulnerable teeth with custom dental crowns can help. We do offer crowns that match your enamel, so this can take place without changing your appearance.
Talk To Sunny Smiles If You Feel You May Need TMJ Therapy
Through TMJ therapy, we can help you improve your quality of life and protect yourself against daily aches and pains. This is one of many issues that we can watch for and treat when you come in for routine services. Of course, we can also see you when you worry that something is wrong, even when you require treatment on short notice. If you want to know more, reach out to Sunny Smiles in El Paso, TX by calling 915-859-7000.