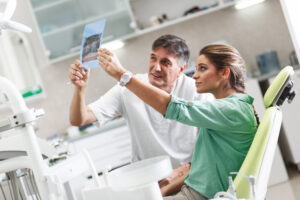 If you have not used all of your dental benefits for the year, or if you are more than six months removed from your last routine checkup, you should know that there is still time to set up an appointment before 2021 comes to a close. By making a general dental appointment a priority, you can start the new year with confidence in both the health and appearance of your smile! At Sunny Smiles, we can provide beneficial services to patients of all ages. The routine preventive care that we provide will help you avoid problems with your oral health. If we find something troubling during your appointment, we can make sure that it is addressed properly through restorative treatment.
Are You Current With Your General Dental Visits?
A typical patient who wants to keep their smile healthy should have an appointment scheduled every six months. Sticking to visits in this timespan will help you control plaque and tartar buildup, and it will alert you to any problems that you might have with your oral health before there are complications. With the year so close to ending, most individuals who are current with preventive care should have come in twice already. If your recommended appointment date is coming up soon, or if you are behind on your visits, you still have time to use your remaining dental benefits for the year to book your next visit!
How A Routine Appointment Protects You
At every routine dental checkup, we will provide a thorough review of your smile, and we will also provide a teeth cleaning that removes the buildup of plaque and tartar found on your enamel. The cleanings that we provide help patients of all ages keep their teeth in good shape, as we can clear away harmful materials before they create difficulties. During reviews, we look out for any issues like tooth decay, gum disease, and other problems with your oral health that we can treat.
Planning Treatment To Address Problems Found During A Checkup
While it can be less than welcome news to hear that you have a cavity, or that you show signs of suffering from gingivitis, you should know that timely care can make the right treatment easier to arrange. For example, a cavity that we catch in time can be treated with a custom dental filling that only covers the affected area, not the structure that surrounds it. For problems with your periodontal health, we can provide a cleaning that targets bacteria below your gum line to reverse gingivitis before further issues arise.
Talk To Sunny Smiles About Scheduling A General Dental Visit
Through your general dental visits, you can avoid potentially serious problems. We still have time to see you for an appointment before the year ends. To schedule a visit or learn more, please contact your El Paso, TX, dentists by calling our practice at 915-849-9000.