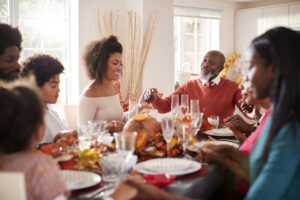 When you celebrate the holidays, your oral health may be one of the last matters you want to think about, but this is a time when your cavity risk can rise. After all, between traveling and holiday gatherings, you can face both changes in your hygiene routine and your diet. One important step to take is to make sure that you have your next routine dental exam scheduled. By doing so, Sunny Smiles can help you make sure that your smile remains healthy. At your visit, you will receive helpful updates about your oral health as well as a thorough cleaning to keep your enamel in good condition.
Why The Holiday Season Might Affect Your Cavity Risk
Is the holiday season really a time when you are more likely to experience cavity troubles? During this time of year, many families will travel, and that can intrude on their oral hygiene efforts by interfering with their daily schedule. At different gatherings, you may lose track of how many sugary or starchy foods you enjoy, which means your teeth are exposed to more harm than normal. In other words, this is a period of the year where your commitment to your smile can waver, which means you can have more to worry about from tooth decay and gum disease.
Make Sure You Have The Right Oral Hygiene Efforts In Place
Whether you intend to host or visit holiday celebrations this year, your seasonal activities can make changes to your routine. Make sure those changes do not impact your commitment to oral hygiene. Brushing and flossing each day will control plaque and prevent problems with tartar formation, and keep your risks for dental decay and gum disease lower.
Consistent Dental Exams Help You Avoid Cavities
Keeping up with your oral hygiene routine is important, but you should also provide protection for your smile with regular dental checkups. These visits should take place every six months, unless there are issues with your oral health that make your dentist recommend something different. You still have time to fit in your final treatment of the year, which can help you stay safe from the kinds of problems that will lead to the need for restorative dental work.
Sunny Smiles Can Help You Prevent Cavities
At all times of year, you should take care to protect your smile in order to avoid issues like dental decay and gum disease. If you want to make sure your teeth remain healthy after the holidays, or if you are simply due for another dental exam, let us know! In addition to routine services, we provide a range of beneficial cosmetic and restorative treatments. If you would like to find out more, please contact your El Paso, TX, dentists by calling our practice at 915-849-9000.