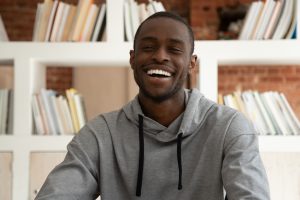 Is there really a way for you to plan a full smile makeover with an El Paso dentist, or will you need to look at different practices to secure the services you need? As you start to explore what cosmetic dentistry can do for your appearance, you can find that the right services can have a significant positive impact while taking less time, and requiring fewer changes, than you expect. Patients at Sunny Smiles can look into services that address problems with dental discoloration, concerns about wear and tear or enamel damage, and even problems with teeth that look misshapen or out of position. We can also discuss making cosmetic improvements with dental crowns, as these restorations can help you improve your appearance as well as your oral health.
Can You Address All Of Your Cosmetic Concerns At One Dental Office?
At either of our dental practices, you can find that there are many services available to you that can dramatically improve your smile. If you are interested in a smile makeover that significantly improves the way you look, you can find that we can help, and that we may be able to provide the changes you want with just a single procedure! As you look at your treatment options, we can bring up services that address several concerns at one time, and we can look for ways to give you the changes you want while minimizing changes to your tooth structure.
Discussing Your Goals For Treatment To Improve Your Smile
Are you someone who feels that their teeth look too dull or discolored? Do you have issues with general wear and tear, or with teeth that are chipped or cracked? What options are there for you if you want to address problems with the shape, size, or positions of teeth that look awkward? We can address these problems for you with the right cosmetic dental procedure. One option is to restore your smile by providing porcelain veneers, which cover the fronts of flawed teeth to change their color, shape, and size. With the right approach, we can even hide some alignment issues with these restorations. You can also find out about the benefits of tooth bonding and contouring work, which can take on these kinds of issues while making more conservative changes. Because this approach does not require restorations, you can complete care in as little as one appointment! We should note that for teeth that are unhealthy or not supporting your bite, we can provide lifelike dental crowns.
Talk To Sunny Smiles If You Want To Plan A Smile Makeover In El Paso
Through your personalized smile makeover, you can take on many different problems with the way you look in a shorter time, and with fewer procedures, than you may think possible. During a visit with your Sunny Smiles dentist, you can find out about the different treatment options available to you, and we can work with you to devise a plan to make significant smile changes. If you would like to find out more, please reach out to Sunny Smiles in El Paso, TX by calling 915-859-7000.