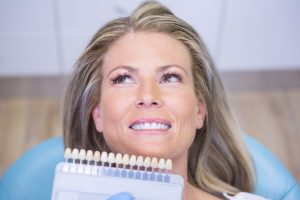 There is certainly a benefit to discussing your issues with your smile flaws. When you do so, you can find that the right cosmetic procedure can make desirable changes in less time, and often with more conservative care, than you anticipate! Sunny Smiles has experience tending to the concerns of patients with many different priorities. We can help you show off teeth that are whiter, more uniform, and free of spacing problems in as little as one appointment. When it comes to making your smile whiter, we can even help you see the changes you want with a personalized kit you can use from the comfort of your home.
Is There An Effective Treatment For Your Smile Concerns?
Cosmetic dentistry is recommended for people with many different concerns about the way they look. What may surprise you is that the right treatment can actually take on more than one issue for you, which means you can see all of your desired changes in a short time, and after conservative care. Based on your current appearance and priorities, we can discuss treatment options that are ideal for you.
What One Procedure Can Do For Your Appearance
With just one procedure, we can make teeth appear brighter, more uniform, and free of any visible damage. Whether you have problems with chipped or cracked enamel or just want to treat problems with natural wear and tear, both porcelain veneers and treatment through tooth bonding and contouring can help. These services also benefit those who are bothered by poor teeth spacing that can leave them with gaps or overlaps that look unsightly, and they can make your teeth appear brighter. With porcelain veneers, we can deliver results in as little as two appointments, while a bonding and contouring treatment can be completed after just one visit.
Can You See Professional Quality Benefits From At-Home Care?
If you go to your dentist to discuss cosmetic work, you may assume that your only option is to schedule something in the office. For people interested in making their smile whiter, we can provide custom teeth whitening kits that deliver stunning improvements! With these kits, patients receive customized trays for the application process, and they also receive potent bleaching agents that can lead to smiles becoming brighter by many shades.
Talk To Sunny Smiles About Addressing Your Smile Flaws
If you are tired of living with embarrassing smile flaws, your dentist is prepared to help you! With the right cosmetic procedure, we can help you show off stunning improvements to the way you look. We can even recommend the use of an advanced whitening kit that you can use in the comfort of your own home! If you would like to find out more, please reach out to Sunny Smiles in El Paso, TX by calling 915-859-7000.