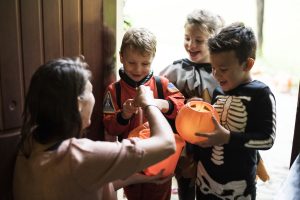 If Halloween is a time of year you love to celebrate with your family, make sure you think about how you can spend the holiday without raising anyone's cavity risks! For people of all ages, the extra access to sweets we associate with Halloween festivities means more exposure to sugars that can lead to trouble with decay. However, while everyone can face some risks, kids can be especially vulnerable, as they have less practice caring for their teeth and tend to have more difficulty turning down treats. Sunny Smiles can provide important smile support for your little ones by providing valuable preventive pediatric dental services. Through regular checkups and good guidance on oral hygiene throughout the year, you can minimize their risks for problems with their teeth!
Are You Scared Of Cavities Affecting Your Child After Halloween?
Kids can come home with an abundance of candy after trick-or-treating, which can be thrilling for them but concerning for you. After all, that increased access to sugar can come with an alarming increase in cavity risks. Setting limits on what they can have per day will be important. It is also important to think about how a combination of daily and professional preventive services will help you keep them protected against potential issues with their oral health.
Think About How You Can Keep Your Kids Safe From The Effects Of Sugar On Their Teeth
One important step to take around Halloween is to establish and enforce limits on how many sweets kids can have in a given day. You can also lower their candy consumption by offering "trades" on treats for items that do not carry risks for problems that require restorative dental work. For kids who are new to brushing and flossing for themselves especially, this is a good time to check in and make sure they are doing the job they know they should do when it comes to cleaning their teeth.
Make Sure Everyone In Your Family Has Their Next Routine Appointment Set
Our family dental practice provides important routine appointments for patients of all ages. For both kids and adults, this can mean enjoying access to valuable services that keep risks for dental decay and gum disease low. Pediatric dental appointments also provide extra guidance when it comes to daily smile care, something that lowers their risks for future problems!
Talk To Sunny Smiles About Smile Care For Your Child!
Though it is important to think about how you can protect your kids from dental problems all year long, Halloween can be a time where they face higher risks than usual. To avoid trouble around this holiday, encourage good oral hygiene habits, limit their access to sugar, and make sure their next dental exams are set! Our practice is here to help families in and around El Paso enjoy consistent smile care. If you would like to find out more, please reach out to Sunny Smiles in El Paso, TX by calling 915-859-7000.