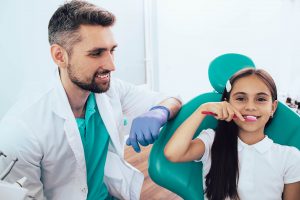 In many ways, you and your children have needs that overlap when it comes to smile care. Everyone in your household should be mindful of their risk for cavities, as decay is a problem at any age. Fortunately, through good oral hygiene practices, smart dieting, and access to preventive dental services, these risks can be controlled. Sunny Smiles provides children's dental care as well as support for adult patients. Because of this, we can provide oral health support to full families in and around the El Paso area. When we visit with our youngest patients, we provide in-office services as well as extra instructions and guidance to help them learn how to protect their teeth. We also provide restorative services for kids when it is necessary to do so.
The Lasting Value Of Expert Dental Care For Kids
The right oral health support for your child can have lasting advantages. Through early appointments, kids learn to feel comfortable in the dentist's chair. Their initial visits can be less involved, and can focus on careful evaluations and making them feel at ease with new surroundings. As they age, kids can receive care that imitates the kind of services adults enjoy during their routine dental exams and cleanings. With that said, we can focus on education and guidance for kids, and we can provide updates about the development of their oral structures.
How Early Visits Help Kids Learn The Importance Of Oral Health Care
Kids will see their dentist for routine care before they are old enough to brush and floss on their own. At these early appointments, we can actually provide guidance to them on how to care for their teeth, which can make the transition to caring for their own smile easier. At early visits, we can also provide guidance to them on why they should take their oral health seriously, and what they can do to protect themselves in addition to brushing and flossing.
We Can Serve Everyone In Your Family
Because we provide preventive oral health services to patients of all ages, including younger children, we can make it easier for households to arrange oral health care. You can set up appointments for everyone in your home, which can make them more convenient. You can also feel more comfortable having one practice that provides helpful feedback to you about everyone's oral health needs and areas of concern.
Schedule Treatment For Your Kids At Sunny Smiles!
Through your regular dental appointments at Sunny Smiles, you and everyone in your household can enjoy important preventive care. If you have questions, or if you would like to learn more about how we can take care of you, please contact your El Paso, TX, dentists by calling us at our N Zaragoza Rd location at 915-849-9000.