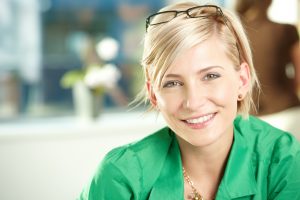 For many people who lack confidence in their smile, cosmetic dental work can provide exciting improvements. While you may have an interest in taking care of your flaws, a lack of information on what kind of care is right for you may hold you back. At Sunny Smiles, we provide many different procedures that can take care of different esthetic concerns. With the right treatment, we can help you see the changes you want, and it can take less time and work than you expect! One procedure can be all that you require even if there are several things you wish you could change about the way you look.
Are You Looking To Make Positive Changes To Your Smile?
Whether you have growing concerns about a once-confident smile or you have always had doubts about your appearance, cosmetic dentistry can help you. Our practice offers different services that focus on making changes to the color, shape, and size of teeth so that they look more attractive. These services can be surprisingly conservative, meaning they make fewer overall changes to your appearance than you might expect.
Discussing Your Different Options For Cosmetic Dental Work
What would you like to change about your appearance? If you have concerns about the color of your teeth, we can send you home with a professional teeth whitening treatment that will make your enamel noticeably brighter. To make other changes, or to address problems within your tooth structure that have changed your smile color, we can present other options, such as treatment with porcelain veneers, or a tooth bonding and contouring treatment. These services can take on many issues at one time to deliver striking overall changes. Another procedure to consider is gum contouring, which can improve the symmetry of your smile and reveal more of teeth that look short or squat.
Can I See The Results I Want With Just One Procedure?
The "right" treatment approach for you is one that responds to your specific concerns. What you can find is that a single procedure is enough to give you the changes you want, even if there are many different improvements that you would like to make. For example, we can provide porcelain veneers to take on problems with discoloration, damage to your enamel, and even naturally occurring problems with tooth shape and size.
Talk Sunny Smiles If You Are Looking To Arrange Cosmetic Dental Work In El Paso
Sunny Smiles is ready to help individuals in and around El Paso who are interested in cosmetic dentistry. There are several procedures we offer to those who want to make changes to the way they look. With just one procedure, you can marvel at how much your smile has improved! If you would like to find out more, please contact Sunny Smiles in El Paso, TX by calling 915-859-7000.