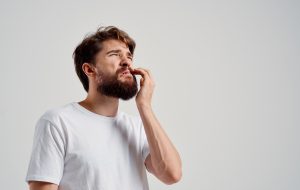 A toothache can be difficult to ignore, especially when you try to eat or drink, but should you think of pain as a reason to schedule emergency treatment? Problems with significant and persistent pain should not be ignored. By delaying care, you can let a problem worsen, and that can raise your risk for losing the tooth in question! Patients at Sunny Smiles do have access to urgent dental work. If you are concerned about an injury, or about serious pain that is not going away, you can reach out to secure a visit as soon as possible. Once you arrive, we can perform an evaluation to determine the cause of your discomfort, after which we can move forward with the appropriate restorative care.
Tooth Pain Can Be Difficult To Endure
When a tooth aches throughout the day, and causes you heightened discomfort whenever you try to eat or drink, it can be difficult to focus on much beyond the uncomfortable sensations you are enduring. It is also natural for you to worry that the pain is related to a serious problem, one that needs to be addressed through restorative dental work. Rather than wait for a standard appointment, you can reach out to our office to book an emergency dental procedure so that your concerns are addressed as soon as possible.
Scheduling Your Emergency Procedure
We can make plans to see you on short notice to address your tooth pain. This kind of discomfort can point to an infection, something that requires treatment in the form of root canal therapy. After confirming that this procedure is needed, we can provide this service – doing so promptly will restore a tooth's health before you have to worry about losing it. Once this work is done, we can provide a dental crown to keep the tooth safe.
Treatment Can Restore Your Tooth Without Changing Your Smile
Dental crowns are made from different material types. The right substance will help you by providing bite support as well as cosmetic value. In addition to matching the color and texture of your healthy teeth, the crowns we provide are carefully shaped and sized so that they fit comfortably.
Sunny Smiles Is Here To Help If You Have A Dental Emergency
Sometimes, dental problems call for appointments on short notice. In these circumstances, our office is here to help people in and around the El Paso area tend to discomfort and other issues before there are complications to worry over. Of course, we are also here to provide routine restorative and preventive services, as well as cosmetic treatments. If you have questions about our emergency services, or any other forms of care we offer, contact Sunny Smiles in El Paso, TX by calling 915-859-7000.