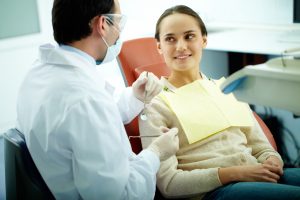 Tartar buildup makes you more likely to experience problems with dental decay, and accumulations at your gum line make gingivitis a greater concern. If you have a good brushing and flossing routine that you follow, you can keep this substance from forming. However, even with good hygiene habits in place, you will need to rely on professional dental checkups to keep your smile safe when deposits are already present. Sunny Smiles provides detailed teeth cleanings as part of every routine appointment. We can look out for the buildup of plaque and tartar, which can lead to its removal. Without these treatments, you can have a more difficult time avoiding issues that will call for restorative treatment.
Your Smile Depends On More Than Just Brushing And Flossing
Brushing and flossing are certainly important, and good habits will lower your risk for problems with decay and gum disease. With that said, daily cleanings should only be part of your regimen for fighting the accumulation of food debris and oral bacteria. Remember to also maintain a smart diet, one that cuts down on your exposure to sugars. Acidic foods and drinks are also a concern, as they can make your enamel weaker. To make sure your efforts are effective, go in to see your dentist for regular updates about your well-being.
Regular Teeth Cleanings Protect You Against Plaque And Tartar Buildup
As bacteria and food debris gather, they can form plaque deposits on your teeth. In time, these deposits will harden to form tartar, a substance that you cannot remove on your own. Regular teeth cleanings provide care that can remove threats in hard-to-reach areas, lower your risk for dental problems, and ensure you have no issues with plaque or tartar accumulation. In addition to providing thorough care, this can lead to a helpful discussion that makes your daily hygiene efforts more effective.
Addressing Dental Problems During A Routine Visit
In the event that you need more than routine care, your dentist can identify any issues that need to be resolved and explain how treatment will help. If you have a cavity, we can provide a dental filling that protects your tooth and stops decay from worsening. If necessary, we can provide a deep cleaning to resolve problems with gingivitis. This can stop a more advanced infection from developing and hurting your well-being.
Talk To Sunny Smiles To Schedule Your Next Teeth Cleaning
With every teeth cleaning, you enjoy important protection against the buildup of harmful materials in your mouth that raise your risk for tooth decay and gum disease. Consistent visits help patients of all ages stay safer over time, and lead to helpful warnings about shortcomings in your daily routine. To find out more, or to schedule your next visit, contact Sunny Smiles at our Dyer St office in El Paso, TX by calling 915-859-7000.