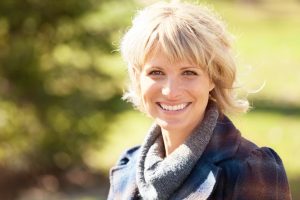 If you are looking into changing your smile by improving its color, choosing a store bought whitening treatment can lead to disappointment. These products can help you fight the stains that have recently gathered on the surface of your teeth, but they can have less success against discoloration that has settled over time. Fortunately, you can do more than just fight discoloration with products available at your local grocery store or pharmacy. At Sunny Smiles, we provide customized whitening kits that our patients can take home and use at their convenience. By following the guidelines for daily treatments, you can make noticeable changes to the way you look by making your enamel brighter!
Are You Concerned About The Color Of Your Smile?
Concerns about dental discoloration are common; unfortunately, the products that can stain teeth are common, too, making this a problem that is often hard to avoid. Coffee, tea, soda, and many other beverages, along with different dark and color-rich foods, can leave behind chromogens or tannins on your enamel that will dull the color of your teeth. Changing your diet can help you avoid new stains, but you will still have to worry about addressing the discoloration that has built up over time. Rather than try to rely on store bought products to help you with this, talk to your dentist to make the changes that you really want to see.
Take Home A Professional Whitening Kit From Your Dentist
At our practice, we can send patients home with whitening kits that are prepared for their teeth. These kits include potent bleaching agents as well as trays that help you evenly apply this substance on a daily basis. Over the course of these daily applications, you can break apart stains that have gathered in time, which can lead to your smile growing noticeably brighter. Patients can often look forward to results that are ready in just under two weeks.
What Other Cosmetic Services Are Available To You?
Our practice is prepared to do more than just deal with discoloration from teeth stains. Sometimes, it is necessary to deal with intrinsic discoloration to make your smile brighter. Other services, like the placement of porcelain veneers, can help you deal with this concern. We can also use veneers and tooth bonding and contouring services to resolve problems with the shape, size, and color of teeth.
Talk To Sunny Smiles To Learn More About Teeth Whitening Treatment
Through teeth whitening kits provided at our practice, our patients can fight the accumulation of enamel stains to show off brighter, more confident smiles. To find out more about this and other smile-related treatments available to you, please contact your El Paso, TX, dentists' office on N Zaragoza Rd by calling us at 915-849-9000.