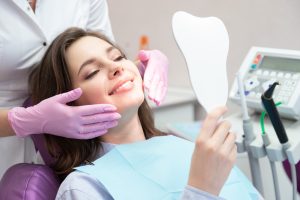 Your teeth cleanings should take place regularly. The frustrating truth is that oral bacteria pose a constant threat. Through daily brushing and flossing, we can control our risks for bacteria buildup, but it is important that you turn to your hygienist for support, too. During routine cleanings, any tartar deposits that have formed can be removed to lower your risk for tooth decay and gum disease. Patients who come to Sunny Smiles for preventive care can count on thorough cleanings as well as evaluations that lead to the discovery of many different concerns. If an active oral health threat is identified at your next checkup, we can talk to you about a conservative and effective treatment to put it behind you!
Teeth Cleanings Should Occur On A Regular Basis
Just as it is beneficial to be consistent with your oral hygiene routine at home, you do benefit from regularly scheduling dental cleanings and exams. Unless you are advised by your dentist to do something different, you should make checkups a semiannual occurrence. Whenever you come in for this appointment, your hygienist will carefully remove bacteria buildup, including tartar deposits that you cannot address on your own. Your dentist will give you a thorough review and let you know if you have any problems that have to be addressed through additional care.
How Your Regular Teeth Cleanings Protect You
Regular teeth cleanings ensure that your teeth are completely rid of plaque and tartar buildup. Whenever you clean your smile on your own, you can remove plaque and prevent tartar from accumulating. However, you are not able to remove tartar after deposits have already formed. If the buildup is not addressed, you can be more likely to experience dental decay as well as gum disease!
More Benefits To Preventive Care
There are many reasons why a person should be committed to regular preventive services. At each appointment, you are thoroughly checked for decay. It can be disheartening to hear that you have a cavity. With that said, dental decay that is caught early and treated prevents the onset of a tooth infection that will require more involved treatment. We can also help you by identifying other concerns, such as problems with TMJ disorder or evidence of teeth grinding, that benefit from further support.
Schedule Your Next Teeth Cleaning At Sunny Smiles!
Every routine teeth cleaning that you schedule helps you by keeping your smile free of accumulated plaque and tartar. Sunny Smiles is here to help you make sure your smile is cared for, and that you have no unresolved issues that have gone unnoticed. To find out more, please contact your El Paso, TX, dentists' office by calling our N Zaragoza Rd location at 915-849-9000.