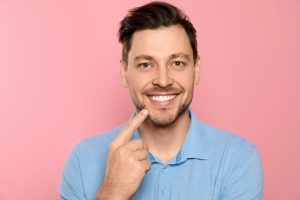 If a cavity forms, there will not be a way for you to stop it on your own. Dental decay is a problem that should be brought to your dentist's attention. If it is not dealt with, you can experience issues with your oral health that gradually become more serious. Eventually, you can start to feel the unpleasant effects of an infection, which can lead to discomfort as well as further health troubles! At Sunny Smiles, we can evaluate you, make plans to restore your tooth, and perform treatment so that the cavity is no longer a problem. If you are someone who has experienced many cavity trouble in the past, we can work with you on changing your oral hygiene efforts during preventive appointments.
A Cavity Does Permanent Damage To Your Tooth Structure
Once a cavity forms, your tooth will experience permanent damage that will have to be addressed by a professional. If you put off care, the problem can grow worse, which can lead to the loss of more once-healthy tooth structure and difficulties with a painful infection. The good news is that you can limit the effect decay has on you by promptly scheduling an appointment and undergoing treatment!
Treating A Cavity With A Filling
A dental filling is the more conservative treatment option available to individuals who need to undergo restorative care. A discreet, tooth-colored filling made from a composite resin material can be affixed directly to your enamel. When in place, it will support you by covering damage, protecting you against further trouble with an infection, and allow you to maintain your appearance! We can recommend treatment with a dental filling if a cavity is identified during a checkup.
Restoring A Severe Cavity
A severe cavity will call for more than just treatment with a filling. In fact, we may not be able to restore the tooth until after we perform root canal therapy! A root canal removes bacteria and damaged tissues in your pulp. Over time, as a cavity works its way through your enamel, you can eventually experience complications from an infection capable of causing pain, problems with swelling and tooth discoloration, and more! Once the root canal is performed, we can make sure your tooth stays protected by capping it with a dental crown.
Schedule Cavity Treatment At Sunny Smiles!
Through cavity treatment at our practice, you can put a problem with tooth decay behind you! Remember that we can alert you to the presence of a cavity before you realize something is wrong. However, if you are not scheduling regular dental exams, we will not be able to warn you of trouble when it arises. To find out more, please contact Sunny Smiles in El Paso, TX by calling 915-859-7000.