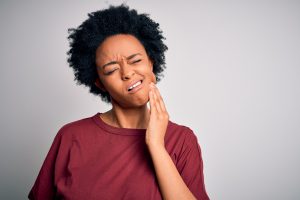 If you break a tooth, it is important t see a dentist as soon as possible about the matter. If you wait to have the problem addressed, complications can make treatment more difficult, and may even leave you vulnerable to complications that make an extraction necessary. Through the appropriate treatment, Sunny Smiles can make sure that your broken tooth's health is restored, and that you have long-term protection from a dental crown. Crowns do more than just protect teeth affected by decay. Their coverage can keep a physically injured tooth safe, and they can help you preserve your natural bite function. Through treatment with a lifelike restoration, we can make sure that you still feel confident in your smile after your procedure concludes.
A Broken Tooth Can Be A Serious Problem
How worried do you really need to be about a broken tooth? Damage to your enamel can start as a serious problem and grow more concerning over time. In its injured state, you can develop an infection. When that occurs, it can lead to pain and sensitivity, swelling of the tissues that surround your teeth, and even the spread of bacteria beyond your tooth. When the matter is not addressed in time, extraction may be your only treatment option. Fortunately, you can see your dentist to receive a crown before this happens. We can even schedule an emergency appointment with you to resolve the problem.
Receiving Your Custom Dental Crown
With a custom dental crown, you can regain your smile and maintain a comfortable bite function. While we offer restorations made from several different material types, we can provide one made with porcelain or zirconia when you need a front tooth taken care of. A crown will be carefully designed to provide full coverage without interfering with your neighboring teeth, and one that imitates your enamel can even be tinted to provide a good color match. If there are signs of infection, it will be necessary to perform root canal therapy before you receive your crown.
We Can See You On Short Notice If You Need Treatment For A Dental Injury
We understand that a physical injury can be an urgent problem. Our practice does welcome patients who need to see us about dental emergencies. At an emergency appointment, we can promptly bring you in for a review in order to determine how we can treat you.
Schedule Treatment At Sunny Smiles For A Broken Tooth
Through treatment to restore a broken tooth, we can give you back your smile and bite function, and we can protect you from complications that threaten your well-being. When called for, we can even bring patients in for emergency services in response to dental injuries. To find out more, contact your El Paso, TX, dentists by calling 915-849-9000.