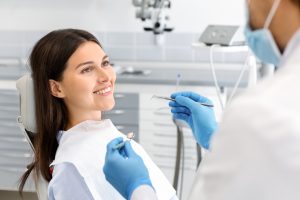 If you want to keep your teeth in good health, you should care for your smile each day. Brushing twice a day and flossing once protect you against plaque and tartar, and these habits also keep food particles from gathering on your smile. As important as these habits are, they are not the only forms of teeth cleaning that you should enjoy. At regular intervals, you should see your dentist for routine services, which include professional teeth cleanings. Sunny Smiles can provide this care as part of your regular preventive services. Whenever you come in, we will also provide important feedback about your smile by providing a thorough evaluation of your teeth and gums.
The Role Teeth Cleanings Play In Preventing Dental Problems
Every time you clean your teeth at home, you can remove plaque buildup and dislodge any accumulations of food on your enamel. While this is important, there are limits to what daily care can really do for you. Any plaque deposits that you do not remove in time will harden, a process that leaves you with tartar buildup. Tartar cannot be removed with a toothbrush or floss string. However, your hygienist can remove tartar during a routine teeth cleaning!
Arranging A Routine Teeth Cleaning And Evaluation
Every routine teeth cleaning and evaluation will provide you with feedback about your oral health as well as protection against future problems. It may surprise you to learn that your dentist can identify problems before you feel that something is wrong. Cavities that are newly formed may go unnoticed, giving them more time to grow and worsen until they are caught. We can also look out for signs of trouble that are normally associated with TMJ disorder, then recommend treatment for this issue. By cleaning your teeth and removing tartar buildup, we make future difficulties with cavities less likely.
Why We Might Recommend A Periodontal Cleaning At Your Next Visit
Instead of a standard teeth cleaning, we may recommend that you undergo a periodontal cleaning. This service helps those who show signs of poor gum health at an appointment. The difference in services concerns the roots of your teeth. Your roots, which are covered by your gums, are typically not cleaned at an appointment. However, those who show signs of gingivitis may have these spaces cleaned to remove bacteria that are gathering and causing a worrying infection.
Schedule A Teeth Cleaning And Exam At Sunny Smiles
Through regular teeth cleanings and evaluations, we can protect you against threats like tooth decay and gum disease. Going without these services can make you vulnerable to problems over time that will eventually call for restorative treatment! To find out more about our services, and to see what we can do to help you, please contact Sunny Smiles at our N Zaragoza Rd location in El Paso, TX by calling 915-849-9000.