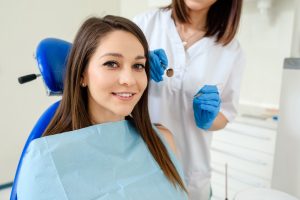 Your dental checkups are important for many reasons, not just because they provide help with possible cavity problems. During a review of your oral health, your dentist will look out for any signs of trouble. One particular concern is gum disease. If symptoms of gingivitis are present during your appointment, we can arrange a periodontal cleaning. This service removes bacteria that are present on the roots of your teeth below your gum line. Your periodontal tissues can recover from infection when this removal occurs, so you will not have to worry about complications from gum disease. While Sunny Smiles is ready to help you preserve healthy gums, you should also take care to protect these tissues between visits!
Your Periodontal Health Can Be More Important To Your Well-Being Than You Realize
Gum disease can be a more harmful issue than you might realize. People who lose teeth as adults are more likely to do so because of gum disease than due to dental decay or other reasons. Problems with serious gum disease can also interfere with your ability to manage other health conditions, like diabetes, making it a potential concern for your general health. The good news is that your dentist will help you avoid problems with a severe infection. You can also protect your gums whenever you brush and floss.
Arranging Periodontal Care When You Show Signs Of Gingivitis
While examining your teeth at a routine checkup, your dentist will look at your gums to check for evidence of gingivitis. To combat this problem, we can recommend a periodontal cleaning instead of your usual teeth cleaning. The difference between these two services is that your periodontal cleaning takes care of bacteria that have gathered below your gum line. Doing this removes the microbes that cause problems with our periodontal health, which gives your gums the opportunity to recover from infection.
Protecting Your Gums At Home
Just as brushing and flossing will help you avoid dental fillings and dental crowns, a good hygiene routine can also help you avoid periodontal issues. Flossing at least once a day and brushing at least twice will be important. It is also important to clean at the base of your teeth each day to remove bacteria that are gathering at your gum line. Removing bacteria before plaque and tartar form at the base of your teeth will make gingivitis less likely to occur over time.
Sunny Smiles Can Help You Manage Your Periodontal Health
Our practice is ready to help people in and around the El Paso community stay safe against gum disease! As part of our routine oral health services, we provide preventive periodontal care, including cleanings to remove bacteria that are cause infections to occur. For more information, contact Sunny Smiles at our Dyer St office in El Paso, TX at 915-859-7000.