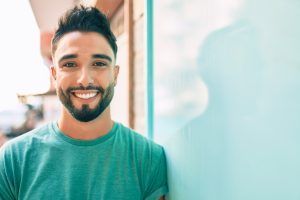 You can feel more confident when you smile after addressing the different flaws that impact your appearance. As you look into cosmetic dentistry, you can find that these flaws can be addressed in less time, and with less work, than you might anticipate. One treatment option offered at Sunny Smiles involves capping teeth with porcelain veneers. These custom restorations only over the fronts of teeth, limiting the work on your tooth structure required to move forward with a procedure. Your slim veneers, when placed, will be able to hide problems with discoloration, wear and tear, and even problems with tooth shape, size, and alignment that have made your smile look awkward or uneven.
Do Smile Flaws Make You Self-Conscious?
Even minor issues can make it hard for a person to smile with confidence. Visible discoloration, a tooth that stands out because of its shape or size, enamel damage, and problems with the way your teeth are aligned can hurt the overall comfort you have with the way you look. When you want to do something about these concerns, you can review your cosmetic treatment options. Veneers are often capable of producing positive results – while they only require limited coverage of your tooth structure, they can hide a range of flaws that may make you unhappy with the way you look.
What Your Custom Veneers Can Do For Your Appearance
Veneers cap the fronts of teeth. They are carefully designed to fit the specific teeth they are made for, and your dentist will perform minor preparatory work on your tooth structure to make sure there is space for them to stay secure and look natural. When they are in position, veneers can take on many different problems with the way you look. They provide coverage for issues with discoloration, even when the problem is internal and not linked to extrinsic stains. They can also improve the shape and size of teeth, restore the appearance of damaged teeth, and even cover some gaps and overlaps.
Discussing Your Other Options For Cosmetic Treatment
Sunny Smiles provides more than just porcelain veneers for patients who want to change their smile! We can also change your tooth shape, size, and color by performing tooth bonding and contouring services. While veneers offer more durability, bonding and contouring can lead to faster results with more conservative work on your enamel. For people who are bothered by accumulated teeth stains, we can provide teeth whitening treatment to make their smile significantly brighter.
Talk To Sunny Smiles About Treatment With Porcelain Veneers
Sunny Smiles is ready to help patients who feel self-conscious about their appearance smile and speak with more confidence! If you would like to learn more about porcelain veneers, or any other cosmetic procedure that we can provide, please call our El Paso, TX dental office on N Zaragoza Rd at 915-849-9000.