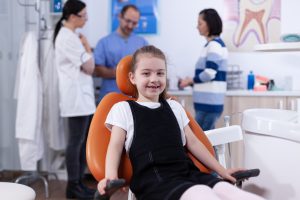 While dental care remains important throughout your life, the approach to care taken by your dentist should change through the years. In other words, younger patients who come in for pediatric dental care should have different experiences in the dentist's chair than adults who require routine dental checkups and cleanings. Sunny Smiles wants you to know that our practice is ready to provide quality care for patients of all ages. For both adults and children, we can offer preventive services that make maintaining healthy smiles easier. When necessary, we are ready to provide the appropriate restorative dental work to address problems before they can worsen.
Do Your Oral Health Concerns Change Over Time?
As we grow older, our smile concerns can remain consistent, but the right kind of care can vary. For kids, a dental visit is about more than just checking for the onset of problems like tooth decay and gum disease. Your dentist will monitor the growth and development of their oral structures, and at the appropriate time they will also provide instructions on proper oral hygiene habits. As a person ages, their concerns about their dental health can change. This can be due to gradual enamel erosion, or it can be due to the onset of issues like TMJ disorder and bruxism, which can impact their quality of life.
Arranging Dental Care For Your Kids
Your kids should begin their dental visits at an early age. Consistent visits should begin when kids are around three years old, and they should occur approximately every six months. At these initial visits, we can make comfort a priority so that they learn to feel at ease during their appointments. While caring for their teeth is important, it is also important to check on their growth and development. This way, you can receive early warnings about issues that may require treatment at a later date.
How Dental Visits Benefit You As An Adult
As you continue to care for your smile, checkups will help you stay on track with maintaining your oral health. Regular reviews keep you informed about problems like tooth decay and gum disease. When these issues are addressed before they grow more serious, you avoid problems that call for more advanced care. For example, by catching a cavity during an exam and treating it with a dental filling, your dentist protects you against a possible tooth infection that will require root canal therapy.
Schedule Oral Health Care For Your Family At Sunny Smiles!
Through regular visits at our dental office, you and everyone in your family can look forward to beneficial oral health care. We are committed to helping patients of all ages stay on top of their dental care needs, and we can address problems before they worsen. To find out more about how we can help you, contact Sunny Smiles at our Dyer St office in El Paso, TX by calling 915-859-7000.