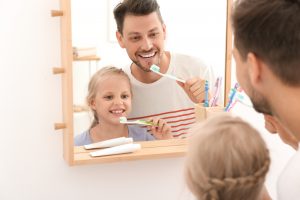 From an early age, kids need help from their parents to avoid problems with tooth decay. How soon can tooth decay become a concern? Once their teeth start to arrive, a child can experience trouble with this particular oral health problem. Parents can provide important protection by gently and thoroughly cleaning their kids' teeth until their children are old enough to perform these tasks on their own. With that said, parents are not the only ones who can help with cavity prevention! At Sunny Smiles, we provide important support for kids during their pediatric dental visits. During these appointments, we can provide helpful guidance and information on oral hygiene matters as well as the kind of preventive dental care that patients of all ages can enjoy.
Protecting Young Children Against Dental Decay
Younger children depend on their parents for many different forms of support. Until they reach an age where they are mature and coordinated enough to clean their teeth on their own, kids rely on their parents for help preventing cavities and other oral health issues. You protect your kids by gently cleaning their teeth, and you keep them safe by providing a smart, low-sugar diet. These efforts are important, as they provide protection and give you a chance to express how important it is to keep their smile healthy. Your dentist can provide more support for your kids at their routine exams. When they are old enough, kids can receive the kind of preventive dental services adults receive, as well as additional guidance on proper oral hygiene.
How Regular Exams Help Kids Avoid Oral Health Issues
There are several reasons to bring kids in for routine dental exams at a young age. One is that your dentist will be able to monitor their growth and development, which means they can alert you to any issues that might call for care. Another is that your dentist can offer helpful instructions on brushing and flossing, as well as information on how bad habits and too much sugar can negatively affect our teeth. Of course, these visits will also include the kind of preventive care that can help people of all ages avoid trouble with tooth decay and gum disease.
The Importance Of Setting A Good Example With Your Own Oral Hygiene Routine
Make sure that you set a good example when it comes to practicing your own oral hygiene habits. By brushing and flossing with kids, you can show them that you take these tasks seriously, too. You can also show that you are concerned about your oral health by scheduling your own checkups. In addition to serving as a good model for kids to learn from, you ensure that your smile stays protected against potential threats!
Sunny Smiles Is Ready To Help You Keep Your Kids' Teeth Healthy!
Sunny Smiles is ready to help patients of all ages maintain lovely, healthy smiles! If you have questions for us, or if you are ready to schedule dental care for yourself or a family member, please reach out to our dental office on Dyer St in El Paso, TX by calling 915-859-7000.