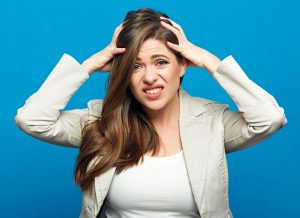 If you start to experience persistent headaches, you may not think to tell your dentist about it. Bringing this up during a dental visit can actually be beneficial, because this issue can be linked to trouble with your oral health! TMJ therapy can ease tension on your jaw joints and muscles that lead to difficulties with poor jaw movement, chronic pain, teeth grinding, and persistent headaches. Sunny Smiles can identify symptoms of TMJ disorder and let you know how treatment can help you. Without intervention, this problem can lead to more discomfort, and the jaw grinding and clenching you experience can lead to enamel damage!
Symptoms Of Poor Jaw Alignment And Tension
There are several issues with TMJ disorder that can intrude on your daily life. Those problems include difficulties with stiff or painful jaw movement, a tendency to grind your teeth, concerns around chronic headaches, and persistent pain in your face, neck, and shoulders. You may notice a frequent issue with "popping" or "clicking" sounds in your jaw while you go without treatment. The good news is that TMJ therapy can address these issues, leading to a positive change in your quality of life. We can provide a personalized oral appliance that reduces stress on your joints and muscles over time.
Using An Oral Appliance To Address TMJ Disorder
Oral appliance therapy relies on a custom appliance to correct issues with poor joint alignment. Better alignment and jaw movement can bring down the tension on your joints and muscles, which can address the accumulated stress that causes discomfort. When necessary, we can also use an appliance to protect your teeth while you sleep. Without timely intervention, nighttime teeth grinding connected to TMJ disorder can hurt your appearance, and may cause enamel damage that calls for restorative dental work.
Dealing With TMJ-Related Teeth Grinding Issues
Your dentist can take care of your smile if wear and tear create problems with your enamel. Through cosmetic dental work, we can restore your tooth shape and hide any chips or cracks that formed due to the pressure of grinding and clenching. We will also check to see if it is necessary to cap damaged teeth with dental crowns. Dental crowns can improve the way you look, but they are also used to restore teeth to keep them healthy, and to ensure they can still provide adequate bite support.
Schedule TMJ Therapy At Sunny Smiles!
Without TMJ therapy, you can continue to suffer chronic headaches, face and jaw pain, difficulty with your bite, and more! Sunny Smiles can identify when a person might be impacted by TMJ disorder and recommend the appropriate treatment. To find out more, contact your El Paso, TX, dentists at our N Zaragoza Rd location by calling 915-849-9000.