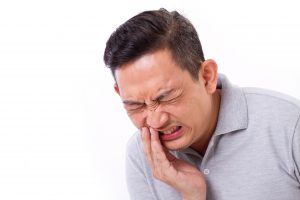 A tooth injury can be painful, and it can also be scary. Checking the mirror and not seeing any chips, cracks, or other types of damage can give you a sense of relief after the injury, but that relief can disappear when pain becomes a lingering issue. You may not be able to see the damage done to your tooth structure, or you can be in continued pain because of internal damage. In some cases, people will start to feel persistent pain without an obvious cause! At Sunny Smiles, we can evaluate you to determine why dental pain continues to affect you, and we can perform the appropriate restorative dental procedure to put this problem behind you. If necessary, we can bring you in for emergency dental work to stop ongoing discomfort and prevent a problem from worsening.
Persistent Pain Or Sensitivity Can Be A Sign Of Infection
If your tooth is not visibly damaged, but pain continues to affect you, it can be due to an infection. An infection can occur after physical trauma, or it can be a consequence of severe tooth decay. Letting these issues go untreated means remaining in pain. It also means letting the tooth's health worsen, which can create more problems. The good news is that we can make your treatment a priority if you are worried over your tooth's health and in pain.
Arranging Restorative Dental Work For Your Injured Tooth
We can evaluate your tooth to see what kind of restorative dental work can be necessary. Root canal therapy addresses internal issues by removing bacteria and damaged tissues within your pulp, the interior space where living tissues are located. Once this work is done, we can properly restore your tooth with a dental crown.
Should I Look Into Emergency Dental Work?
If your pain makes you concerned that your tooth is in serious jeopardy of being lost, or if you are having a hard time ignoring the pain you feel, reach out to discuss urgent dental care. Emergency dental services help those who find themselves in need of treatment without delay. Once you arrive, we can address an issue that is responsible for your discomfort, and we can provide treatment to make sure there are no more threats that concern your tooth and general oral health.
Sunny Smiles Is Ready To Restore Your Injured Tooth
Lingering tooth pain can be a concern after an injury, or when there is no clear cause. The good news is that Sunny Smiles is prepared to help, and that we can make sure your tooth's health is completely restored. If you have questions for us about our emergency dental services, or if there are any other oral health matters that you wish to discuss, please contact our El Paso, TX, dentists' office on N Zaragoza Rd by calling 915-849-9000.