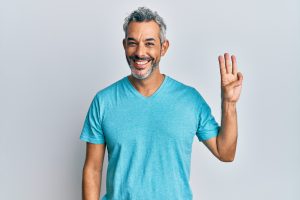 There are times when restorative dental work is needed but a crown is not required. At regular dental exams, your smile is reviewed for any signs of tooth decay, which can lead to the detection of a cavity that you are not yet aware of. When smaller cavities are caught and treated, a dental filling can be all that you need to restore your oral health! So when is it necessary to cap a tooth with a dental crown? At Sunny Smiles, we use dental crowns in several situations where a tooth's health and appearance are in jeopardy. Severe cavities make crowns necessary, as do problems with physical trauma. In some cases, we recommend dental crowns to restore teeth that are significantly blemished, or are affected by shape or size issues that interfere with your bite.
1. A Severe Cavity Can Make Treatment With A Crown Necessary
If your cavity goes undetected for too long, there will be more damage than a dental filling can cover. In a situation like this one, we can still protect your tooth. Doing so will call for a dental crown instead of a filling, as crowns are able to address more damage and provide more support. Because fillings are a more conservative treatment option – one that preserves more of your healthy tooth structure – you should be careful about letting cavities go untreated. With that said, an ideal effort would keep your smile cavity-free, something that smart daily care and regular dental exams can help you with.
2. Physical Tooth Trauma Can Call For A Crown
If your tooth chips or cracks, we may need to restore it with a crown instead of performing cosmetic dental work. Cosmetic services make fewer changes to your tooth structure, but they are not intended to provide functional bite support and keep a vulnerable tooth safe. With a crown in place, you can have an easier time biting and chewing, and you have more support to keep a tooth in good condition.
3. Crowns Can Address Issues With Severely Discolored Or Misshapen Teeth
Naturally occurring flaws with tooth shape and size can hurt your smile and also make your bite less effective. For these problems, or for internal issues that change a tooth's color, we may suggest treatment with a dental crown. Because we can provide crowns that imitate your healthy tooth structure, we can complete this work and restore your smile as well as your bite function.
Sunny Smiles Can Improve Your Smile And Oral Health With A Crown!
Through treatment with dental crowns, we are able to help patients who have issues with dental decay, physical trauma, or even naturally occurring problems that impact their well-being and bite. For more information on the role crowns play in treating patients' smiles, please contact Sunny Smiles at our N Zaragoza Rd location in El Paso, TX by calling 915-849-9000.