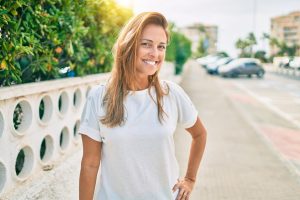 Over a period of time, your teeth can grow gradually less bright because you continue to pick up teeth stains from different foods and drinks. Many popular products are able to stain our enamel, which is why discoloration is such a common concern. If you know you want to show off a brighter smile, should you look into teeth whitening treatment? A whitening kit from Sunny Smiles can help you fight frustrating stains, even when you have problems with discoloration that are difficult to resolve when you use store bought whitening products. With that said, some people struggle with discoloration for other reasons, so they may be better served by a different treatment option.
Are You Bothered By Your Teeth Stains?
Teeth stains are often hard to avoid completely, as there are many products capable of leaving them behind on our teeth. Even if your daily brushing and flossing routine is keeping you free of cavities, you can still see your smile change color in time. As stains settle, they can become difficult to remove even when you use a whitening treatment from your local store or pharmacy. Although teeth commonly lose their brightness because they become stained, there are other reasons why you might have discoloration. Your dentist can evaluate you to determine if teeth whitening is really the right approach for you, or if we should proceed with something else.
Picking Up A Personalized Whitening Kit For At-Home Use
For those who need to fight teeth stains, we can provide a personalized whitening kit that includes strong bleaching gels and trays that conform to the shape and size of your teeth. These trays are useful because they make applying these gels easier. For a recommended number of days, you will perform a daily treatment to fight discoloration. As you go through these treatments, you can see exciting improvements that make you more excited to share your smile with the world!
Why Some Patients Benefit From Other Cosmetic Procedures
There are other problems that can change your smile's color. These issues are often referred to as intrinsic discoloration, problems that occur within the tooth structure to change your appearance. To fight them, we can recommend other cosmetic dental treatments. For example, we can cover dull, blemished teeth with porcelain veneers. These restorations can help with your smile color and also hide concerns about the shape, size, and alignment of your teeth. You can also be a good fit for tooth bonding treatment. A bonding procedure uses a composite resin material to hide flaws, including discoloration, that may have hurt the way you look.
Talk To Sunny Smiles About Teeth Whitening
Sunny Smiles is ready to help our patients deal with frustrating and embarrassing teeth stains! If you want to show off a brighter smile, or if you want to address any other problem with your appearance, reach out to our dentist's office at our Dyer St location in El Paso, TX by calling 915-859-7000.