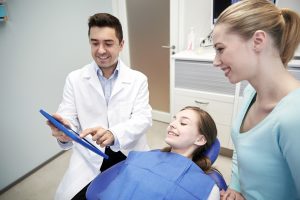 If you find one dental office where everyone in your family can receive care, you can find that appointments are easier to set up, and that all of the members of your household are enjoying the right oral health support. In some ways, kids and adults have the same needs when it comes to their oral health care. Tooth decay and gum disease are common concerns, and should be taken seriously at any age. However, kids can benefit from more guidance when it comes to learning how to effectively care for their teeth at home. At Sunny Smiles, we welcome patients of all ages and are prepared to meet their needs. During pediatric dental visits, we can provide guidance on hygiene and the threat of problems like tooth decay, and we can give parents update about the development of their kids' oral structures. For adults, we can provide continued protection, and warn about issues like teeth grinding and TMJ disorder, which can cause quality of life issues over time.
Everyone In Your Household Should Have Access To Quality Smile Care
While you may have different needs than you kids when it comes to smile care, you should all be protected against the oral health threats that can affect you. Without the right support in the dentist's office, kids can be slower to learn how to care for their teeth and more vulnerable to problems. When adults go without regular dental exams and cleanings, they can be more likely to experience problems with advanced tooth decay and gum disease, and more likely to let other troubles develop and worsen. Because our practice is able to provide all-ages dental care, we can make oral health care more convenient by seeing everyone in your household!
What We Can Do To Help Your Kids Stay Out Of Oral Health Trouble
Kids should enjoy protection from tooth decay and gum disease at their regular dental appointments. They should also receive guidance that makes protecting their smiles easier. At our regular pediatric visits, we encourage kids and help them learn how they can and should care for their teeth between visits. We also help them appreciate why they need to take smile care seriously, and what can happen if they experience problems. These early visits can make kids feel more at ease in the dentist's chair in the future, and they can give them the understanding they require to develop good hygiene habits on their own.
Make Sure You Continue To Protect Your Smile From Harm
If you are going without regular dental exams, you can remain unaware that you have a cavity until you start to experience tooth pain and sensitivity from advanced decay. Upon experiencing this, you can find that you need root canal therapy and a dental crown to fully restore your tooth. This is just one example of how you can be negatively impacted by a lack of checkups. These visits lead to the early detection and treatment of problems, and they provide care to make future problems less likely to occur.
Schedule Dental Visits For Your Family At Sunny Smiles
Regular visits at Sunny Smiles can be good for everyone in your family's oral health! To find out more, call our dental office on N Zaragoza Rd in El Paso, TX at 915-849-9000.