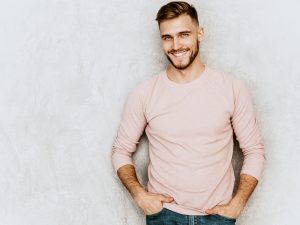 When a serious problem affects your tooth, a custom dental crown can keep it safe and provide you with important support when you bite and chew. As you look into treatment, you may wonder if it is possible to receive a dental crown without causing problems for your smile. Sunny Smiles is sensitive to patients' concerns about their appearance when they need restorative dental work. When treating teeth that are more visible when someone smiles and speaks, we can recommend the placement of crowns that imitate healthy dental enamel. The crown you receive can be carefully designed to fit securely, support your dental function, and imitate your healthy enamel!
How Dental Crowns Fit Into Restorative Dental Work
Dental crowns are used during restorative treatments for teeth that need more support than dental fillings provide. While fillings are used to restore smaller cavities, they may not provide enough support when you have problems with advanced decay. You can also require the support of a crown after chipping or cracking a tooth. When your dentist evaluates a vulnerable or injured tooth, they will assess how much support it requires, and whether or not a crown is needed.
Receiving Your Custom Crown
Before you receive a crown, your tooth will be carefully measured and modified to make sure that it both looks right and fits securely. The preparatory work done on your tooth gives the restoration room to stay in place without bothering neighboring teeth. Once it is ready, your dentist will affix it to your tooth permanently. This process keeps it in place so securely that you can trust your crown to provide support for your dental function for many years after a procedure.
Should I Replace An Older Dental Crown?
Dental crowns provide permanent support for teeth. Unfortunately, just as our teeth can wear down or be damaged over time, a crown's condition can worsen to the point where it needs to be replaced. If you no longer feel confident in your ability to put pressure on an older crown, if a restoration feels loose, or if it appears to be damaged, bring up the matter with your dentist. If you are having active problems with a crown, or if it becomes loose or dislodged, we can bring you in for emergency dental work.
You Can Receive A Tooth-Colored Custom Dental Crown At Sunny Smiles
With a custom dental crown in place, you can smile, speak, bite, and chew with renewed confidence. Sunny Smiles is prepared to restore your problem tooth so that you do not have to worry about its health or your ability to maintain your dental function. If you wish to find out more, please contact Sunny Smiles at our N Zaragoza Rd location in El Paso, TX, dentists by calling 915-849-9000.