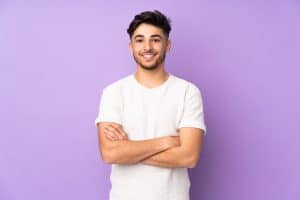 When oral health problems put your smile in jeopardy, Sunny Smiles can perform restorative dental work to help you. While these services are important, and the issues they address can be serious, we understand that oral health concerns are not the only concerns patients can have about their teeth. Cosmetic issues can be a source of anxiety and unhappiness, and they can undermine your confidence to a frustrating degree. If you have smile flaws you would like to address, we can talk to you about the different services we offer that can help you resolve problems with the shape, color, and condition of teeth.
Do You Feel Unhappy With The Color Of Your Teeth?
Discoloration is often a problem for people, and it is something that can worsen as time passes. If you are starting to worry because of teeth stains, a professional teeth whitening treatment can help. Our office provides treatments with whitening agents that are stronger than those found at your nearby grocery store or pharmacy, and they can help with tougher stains that have proven difficult to address.
Sometimes, patients have discoloration due to problems with enamel erosion, certain medications they have taken, or due to physical injuries. In these situations, we can suggest another approach to help you. With porcelain veneers and tooth bonding treatment, we are able to cover up discoloration that is affected by internal factors.
What Can I Do About Enamel Wear And Tear?
Dental injuries can be a sudden problem, but you can also experience problems with enamel damage as wear and tear gradually change your smile. If your teeth look older and less healthy after an issue with teeth grinding, or because of years of use, we can discuss treatment in the form of tooth bonding or the placement of veneers. These services allow us to make teeth appear straighter, healthier, and more uniform, giving you a smile that no longer looks awkward or uneven!
How Gum Contouring Treatment Improves The Appearance Of Short Teeth
People with excess gum tissues or uneven tissues may feel unhappy with their smile because their teeth look short or squat. To help these individuals, we can recommend a gum contouring procedure. Gum contouring treatment carefully removes excess tissues to reveal more of your tooth structure, and to even out areas where the tissues appear bulky or awkward.
Talk To Sunny Smiles About Cosmetic Dentistry!
Through the right cosmetic treatment, Sunny Smiles can help you smile and speak with more confidence! We offer multiple treatment options, and we can discuss the benefits of different services with you to make sure that you see the results you really want. To find out more, please contact Sunny Smiles at our office on Dyer St in El Paso, TX by calling 915-859-7000.