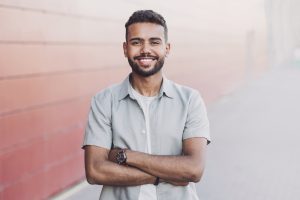 There are several treatment options available to patients who want to arrange cosmetic dental work. The right service can take on issues you feel hold you back – problems with dental discoloration, wear and tear, concerns about teeth spacing, and more can be resolved with the right procedure. At Sunny Smiles, you can learn about the benefits of different treatment options, like the placement of porcelain veneers or tooth bonding and contouring service, which restore the shape, size, and color of teeth. Both procedures offer you a means of making lasting changes to the way you look, and a means of taking on a range of flaws with less time and work than you might expect!
How Would You Like To Change Your Smile?
There are many concerns people bring to the dentist's office when they want to undergo cosmetic treatment. While many can have a single issue, like teeth stains, that they wish to address, others can have several concerns to resolve. Those problems can include trouble with teeth spacing, problems with the shape or size of teeth, and visible dental damage that makes your smile appear unhealthy and unattractive. What may surprise you is how effective a single procedure can be at putting all of your smile concerns behind you!
If you are interested in restoring your smile after suffering dental damage, or if you have problems with tooth shape or size that affect your bite function, we may recommend capping problem teeth with dental crowns. This restores your appearance while also addressing issues that can affect your oral health and dental function.
Scheduling Tooth Bonding And Contouring Treatment
A tooth bonding and contouring treatment carefully reshapes teeth and applies a resin substance to cover up flaws that concern you. Because this approach does not require us to place permanent restorations, it can take less time and demand fewer changes to your enamel. Your dentist will make corrections to teeth that are a poor fit for your smile – depending on how many teeth you want restored, the process can be completed in as little as one visit.
Receiving Porcelain Veneers
Treatment with porcelain veneers calls for the permanent placement of thin, customized shells on the fronts of your teeth. These restorations require limited changes to your tooth structure in order to make room for them. While this process can take more time and require more preliminary work than tooth bonding and contouring treatment, you can have an easier time maintaining your restored smile, as veneers are remarkably durable.
Talk To Sunny Smiles About Your Cosmetic Treatment Options!
When you look into the benefits of cosmetic treatment, you can be excited to hear how much good a single procedure can do for you! To find out more about our practice and services, contact Sunny Smiles in El Paso, TX by calling 915-859-7000.