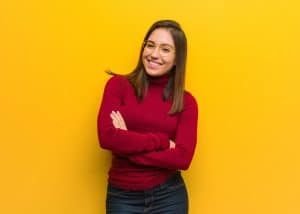 If you have a cavity, your dentist will have to restore your tooth's health by both removing the damaged portion of your enamel and protecting the structure with either a dental filling or dental crown. Fillings and crowns do important work to both keep your tooth safe from infection and support your ability to bite and chew comfortably. At Sunny Smiles, we are ready to provide conservative cavity treatments that fully address a problem with your tooth's health and also preserve your smile! We can do this by providing a restoration that imitates the appearance of healthy enamel, which makes it difficult to notice.
Will A Cavity Treatment Affect How I Look?
You can have more concerns about cavity treatment when a problem affects one of your front teeth, which tend to be difficult to hide whenever you speak and smile. When these teeth need to be restored, patients can have more concern about what their filling or crown will look like. We use a resin substance that imitates healthy enamel for our dental fillings, and we can recommend the placement of a dental crown made of porcelain or zirconia for one of these more visible teeth.
Determining The Cavity Treatment You Need
The choice to use a dental filling or dental crown will be based on the amount of damage to your tooth. Smaller cavities can be treated with dental fillings, which are the more conservative treatment option. Dental fillings only require us to treat the space where a problem occurred; the surrounding tooth structure can remain unchanged. However, if you have a larger cavity, including a cavity severe enough to call for root canal therapy, we can recommend that you receive a dental crown. Crowns provide full coverage above the gum line, but with the right material they can both protect the tooth and imitate its appearance.
How Regular Checkups Help You Avoid Advanced Dental Decay
Even with access to tooth-colored restorations, you should take care to avoid problems with tooth decay! One thing you can do to limit your risk for advanced cavities is schedule regular dental exams. At every routine appointment, your dentist will check on the condition of your teeth to see if there are any problems that require attention. We also provide teeth cleanings that remove the plaque and tartar buildup that can put you at risk for both dental decay and gum disease.
Schedule Cavity Treatment At Sunny Smiles
Through cavity treatment at Sunny Smiles, you can count on effective care for a cavity that preserves your smile! In addition to treating active trouble with dental decay, we provide a variety of preventive and cosmetic services. If you would like to know more about our practice, or if you wish to set up a visit, you can contact the Sunny Smiles office on Dyer St in El Paso, TX by calling 915-859-7000.