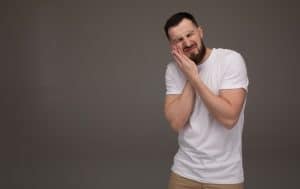 The onset of a toothache can be worrying, but you may be unsure of just how concerned you ought to be. Tooth pain can be a sign of poor dental health, but it can sometimes be linked to a sinus infection, or sensitivity to heat and cold. If you have a pain that is not subsiding, or if the pain is severe, bring it to your dentist's attention. Prolonged or significant pain can be a sign that you need restorative dental work. Sunny Smiles can evaluate your tooth, determine the right treatment, and put a stop to the problem. When necessary, we can even bring patients with tooth pain in for an emergency dental appointment.
A Persistent Or Severe Toothache Should Not Be Ignored
A short period of dental discomfort can occur even when you have no oral health problems that require restorative treatment. However, if you have a significant amount of pain, or if your tooth has been in pain for an extended period of time, you should discuss this with your dentist. When a problem is severe enough to cause lasting discomfort, it could concern an infection or abscess, and point to trouble that puts your oral health and tooth at serious risk.
What Will Treatment For My Toothache Involve?
You may need to undergo root canal therapy to restore the health of your tooth. Root canals are performed when patients have problems within the pulp, the inner chamber of the tooth where living tissues are housed. After this is done, your dentist will restore your tooth with a dental crown to keep it safe. The most severe dental problems can make tooth extraction necessary. Remember that this is only done as a last resort, but that putting off treatment when you think something is wrong can make you more likely to need the tooth removed. For patients who lose teeth, we can make plans to provide a dental bridge or other restoration to complete their smile.
A Severe Toothache Can Call For An Emergency Appointment
If your toothache is severe, you can arrange an emergency dental procedure. This lets you put a stop to discomfort without a frustrating delay, and it makes tooth extraction less likely as you are shortening the time a tooth spends in ill health. Our practice also provides emergency appointments when patients need to see someone because of a physical injury that damages their enamel or loosens their tooth.
Sunny Smiles Is Ready To Help You Deal With A Toothache
Sunny Smiles can help you resolve a problem causing you to suffer a toothache! We do recommend that you take dental pain seriously, as it can be a sign of worrying oral health trouble. To find out more, contact our El Paso, TX, dentists' office on N Zaragoza Rd by calling 915-849-9000.