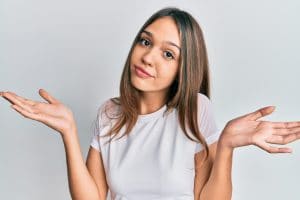 Dental restorations are needed when cavities form, as the decay that develops will permanently damage your tooth structure. Ignoring this damage would leave you vulnerable to infection from oral bacteria, and it can also negatively affect your ability to put bite pressure on a tooth. You can be happy to know that a restoration you receive can protect your tooth while also imitating its appearance, which means restorative dental work does not have to be the end of your smile as you know it! Sunny Smiles provides dental fillings that imitate healthy tooth structure. Your filling will provide lasting protection without changing the way you look. It should be noted that larger cavities require more support than dental fillings provide. Make sure you regularly attend dental exams to avoid problems with decay that require more involved restorative dental work.
When Dental Fillings Are Needed
Dental fillings are put in place to restore teeth that are damaged by decay. Their presence protects you against oral bacteria that could gather in the space where damage to your tooth structure formed. They also provide structural support, which ensures that you continue to have support when biting and chewing. While some form of protection is needed for a tooth affected by decay, it will not always be appropriate to use a filling. Larger cavities that do more damage to your enamel require support from dental crowns. Crowns completely cover teeth to provide more protection. Our practice can provide crowns that preserve your smile, so you will not have to worry that treatment will hurt the way you look in this situation.
Receiving A Tooth-Colored Restoration
Before your filling is placed, your dentist will carefully remove the decayed tissues from your tooth. Doing so stops the spread of damage and puts an end to the threat to your oral health and enamel. Once this space is properly cleared and cleaned, a filling made from a composite resin material can be applied. This substance bonds with your enamel to provide meaningful support. After hardening, it will stay intact even as you put pressure on it by biting and chewing.
Avoid Cavity Complications By Scheduling Regular Checkups!
It can be a relief to know that smile-friendly restorative dental work is available. However, you should remember that even small cavities do permanent damage to your enamel. Regular dental exams will make it easier for you to avoid cavities over time. At every visit, your teeth are checked for early signs of trouble, and they are also cleaned by your hygienist in order to remove harmful tartar buildup.
Receive A Tooth-Colored Filling At Sunny Smiles!
Sunny Smiles is ready to care for your smile when you have a cavity. Because we offer dental fillings and crowns that match your tooth structure, we are able to restore a person's dental well-being without changing the way that they look. For more information, you can contact Sunny Smiles in El Paso, TX by calling 915-859-7000.