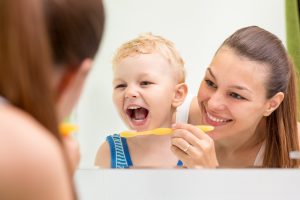 Young children have much to learn about the world. One lesson that will help them preserve their appearance and oral health is one on proper dental hygiene. Until they are around six or seven, kids typically need help with brushing and flossing in order to avoid problems. Even if they are not old enough to directly clean their teeth, children can still benefit from learning how and why they should keep their smile in good health. Sunny Smiles can assist you with their education. At pediatric dental visits, we provide kids with helpful guidance and information on oral hygiene in addition to providing the kind of preventive dental care that adults expect. Make sure that you do your part to help them by both bringing them to these visits and by giving them instructions on good dental hygiene at home!
Are Your Kids Safe From Cavities?
Simply put, when your child's teeth begin to arrive, you are safe to assume that they are vulnerable to problems with cavities. That does not mean problems with decay will be inevitable! Kids, like adults, can count on natural support from their tooth enamel, which is remarkably strong even when teeth first arrive. However, because kids are less informed about oral hygiene, and because they often find turning down sweets more difficult, they can have more to worry about when it comes to decay. This is why dental visits and good guidance at home are so important in their early years.
Good Habits To Practice At Home
Do not rush into starting your child on brushing and flossing. If they begin to practice these habits too soon, they may not be equipped to do them properly, which can lead to difficulties and poorer protection. What you can do is encourage them to practice while still helping them fully clean their teeth. As you clean their smile, talk to them about why this is a good practice, and why protecting their smile is so important. While they may not love the news that sugar is potentially harmful, encouraging them to limit their consumption of sweets to protect their teeth is also important.
Make Sure Your Kids See Their Dentist On A Regular Basis
From an early age, kids benefit from regular dental visits. Even if they are not yet old enough to start receiving the kind of standard care given during all routine dental exams, appointments will help them learn to feel at ease in the dentist's chair. When they are old enough, the cleanings and evaluations provided to them will make them less vulnerable to problems while also helping them learn to appreciate good dental health!
Schedule Dental Care For Your Kids At Sunny Smiles!
Our dentist's office is ready to help patients of all ages protect their teeth and gums from potential problems! To learn more, or to make appointments for your family, contact our El Paso, TX, dentist's office on N. Zaragoza Road at 915-849-9000.